I saw this earlier and thought it was payware. Really great addon and I love the passion and effort people put into these airports. I had fun showing-off to all the spectators on the grounds. Definitely recommend!!
This is marvellous. I really appreciate the effort some people go to in creating these and then making them available to the community. I've been to a few airshows at Duxford so will enjoy this and buy them a coffee.
Love this airport! The scenery and people are spectacular! Thanks for the great work
A big thanks to the authors of this freeware airport. A delight to use. Great job!
Thanks for the kind words guys, I'm glad you enjoy it
It's awesome! Love all the spectators and static planes.
One catch that got me…in the rar file, there's a single folder, inside that, there's another single folder. It's that second folder that goes into community. If you copy over that first one, it doesn't show up, because msfs only looks one folder deep in community.
A long time ago, with FS2004 (not sure, perhaps before), there was a scenery of the airshow "lLe temps des hélices" at La Ferté-Alais-Cerny.
And you had to do a presentation flight of a Hurricane, with differents imposed type of passages, avoiding flying over the people.
It was not easy and very fun.
Would be great to have the same kind of thing at Duxford's Airshow !

@ BufordTX
Use Addons Linker, no more problem with subfolders (and a lot of great features too).
It is indeed superb! You should do more with your talent…
Thank you, this is indeed the only scenery I will make, and as yet it is only about 80% complete.
The rest of the many more buildings and objects are still being created and will be added in a big update by xmas I think
Ah thats a shame its going to be the only one, but it is a delight. I look forward to the rest. Ive just dropped you a few quid for your efforts via PayPal. Have a few coffees!
I hope you're going to accurately model every hangar interior with authentic models of all the planes so we can actually tour the museum properly. With readable plaques of course.
I'm only messing, but no seriously please do this.
…yeah, and all planes flyable, and real food in the restaurants, and £30 entrance (by paypal lol) before the scenery will load… why not?
The PayPal charge would be a devious masterstroke
New version of Duxford Airfield and War Museum complete with ALL buildings within the grounds of the Duxford War Museum. Highly detailed improvements.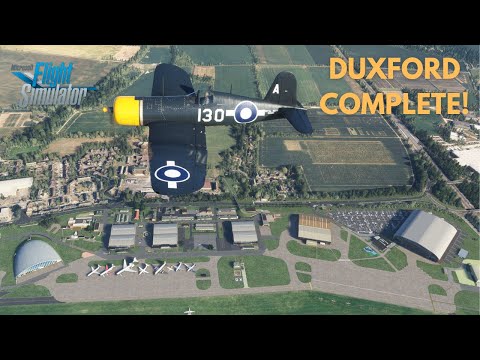 Downloaded last night, very nice indeed. Was expecting a large performance drop (high end machine but in VR) but it was fine, maybe just 1 or 2 fps. Great work!
Phenomenal Mick. I admire and respect your talent. Incidentally no performance impact for me, so I can delight in all its glory!
Just watched the video this looks incredible i fly out of Duxford most of the time in the sim too bad this isn't available on Xbox.