As our lovely megathread with an immense amount of feedback got closed after Asobo claimed that Night lighting was improved, we couldn't voice our opinions anymore.
First of all i'd like to thank every single person in the following linked thread that participated and gave alot of solid constructive criticism and ideas to improve the night lighting of microsoft flight simulator.
So here i'd love to revive our community it's wishes to keep improving on this subject.
A few things i'd love to get off my own chest :
You guys were truly on to something when you MS/Asobo gave alpha access to a select lucky few.
There were many screenshots circulating that brought me immense joy of the visual fidelity my eyes were laid on.
Some of these shots were the night lighting ones that were so impressive at times, NOT perfect but very nice nontheless.

We as a community asked for improvements but only cuz the heavy sephia effect got introduced in the release build.
That got fixed but we got some strange lights in return which spread out unnaturally looking like cones of lights from above.
The things I personally think can be improved compared in the current state of night lighting:
I will speak purely about lights scattered across the sim world as per wishlist rules sticking to one topic.
The light bulbs lack brightness and is undersaturated which can honestly be increased a tad bit to give that orange glow look we see in real life from above. (not all cities do i know that)

The light bulbs lack the atmospheric effect, this is a bit hard to explain.
When you look into the city with your own eyes it looks like it's blinking/shimmering.
This is due to the light photons traveling through the atmosphere.
This can obviously bring some more immersion as it'll look more alive outside.

The lights are actually casting now which is good but it looks like expanded bubbles everywhere now at higher altitude. I'd suggest for this to be reverted back to how it was previously but a bit more spreaded bloom on it, maybe 20% outside of it's radius from high altitude.
This image below is likely the biggest immersion killer for me personally looking al the light bulbs from above.
Current state: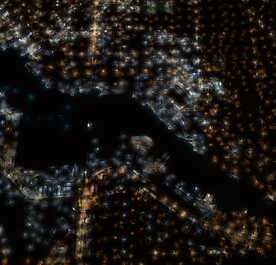 Release build state:

The light bulbs miss the blooming effect which is not only visible on camera but a bit to our eyes as well.
Alltho this shot is a bit exaggerated maybe but here is a comparison of a small edit i did with reshade and photoshop.


And here is another edit of my vision of it a bit in terms of brightness and saturation.
Here are a few alpha shots that circulated around : (posted also in our earlier thread linked above)