NZA Simulations - NZ & AUS MFS2020 Discord - NZWS & Westport Scenery Pack 1.0
Part of the New Zealand and Australian Scenery Series - Launch of the free download for NZWS - Westport in New Zealand for Microsoft Flight Simulator 2020.
4K Youtube Trailer here: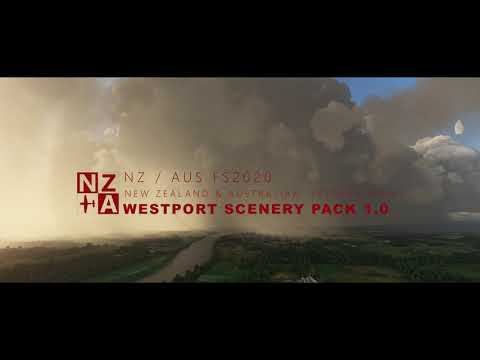 Credits:
Scenery creator: DeansPlay (Dean)
Additional modelling: Hoynedawg (Elijah)
Ground plate: HybridNZ (Josh)
Additional alignment work: Skuxxanator69 (Nick)
TBM Sounds Air livery - Reaver
LiveFlight review: RancidNZ (Tim)
Trailer: Cameras, editing by: HybridNz
All logos, devices, entities and trademarks are copyright to their respective owners.
Custom Airport NZWS:
Handcrafted Airport- NZWS, Westport
• 2100+ hand placed objects
• 55 Custom Building and Signs
Runways:
• 22/04 1280M of Asphalt with low intensity edge lighting, 3 degree papi left side only
Taxiways:
• Custom Taxiways with correct widths and names for Default AI and ATC compatibility
Gates:
• 1 Number gate including alternate parking positions
• Apron ground markings and gate numbers
• Gates set to corresponding wingspan limits as found in charts
• Numerous GA parking on the North Side
Scenery:
• Custom building including the main terminal and the tower building with 4k textures and several LODS to maximise performance.
• Custom Signs scattered around the place.
• Custom objects such as a rubbish bin, terminal entirior, baggage trollies, golfcarts and entrance markers of the port.
• Aprons, Car Park and Fuel area recreated with maximum detail for realism.
• Boundary Fence.
• Terraforming along the coastline and the airport entrance, including water fixes.
Custom Buildings:
• Terminal
• Aeroclub hangars to the north
• Monument at car park
• Additional hangars next to the terminal
• Tower building and additional side buildings next to it
• Watertank next to the tower
• Antennas
• Road entrance to the airport
• Westport Golfclub house
• Westport Golfclub entrance
• Westport Search and Rescue tower at the port entrance
Ground Detailing:
Custom ground textures for the entire area around the airport and the neighbouring Westport golf course.
• Mowing strips detailing
• Grass height control
• Correct regional grass colouring
• Aeroclub grass wear and tear
• Golf course fairway, greens and bunkers
• Correct detailed fence and paddock alignment
Options:
• Download the NZA Simulations Sounds Air liveries - by Reaver for TBM 930 and Caravan for real operating carriers for the airport. (as seen in the trailer)
Please inform us if you encounter any issues. Join our discord and let us know!
Discord: NZA Simulations - NZ/Aus MFS2020 Discord (NZA)
Copy to your FS2020 community folder to install and fly.
DOWNLOADS:
NZA Simulation NZWS Westport Scenery 1.0 download <— DOWNLOAD SCENERY HERE
NZA Simulations Liveries for Sounds Air & BP Fuel Trucks as seen in the trailer
Sounds Air TBM 930
Cessna Caravan 208
BP & Mobil Fuel Trucks
https://flightsim.to/file/465/air-bp-fuel-trucks