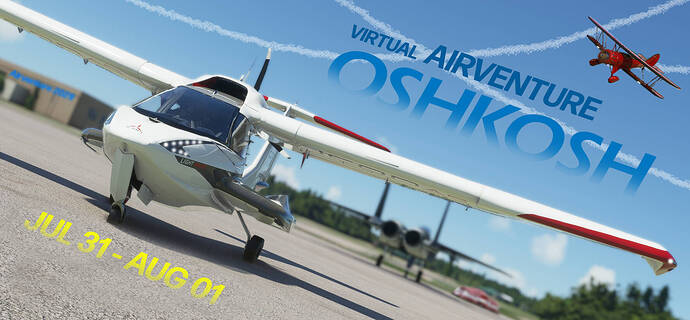 2021 OSHKOSH VIRTUAL AIRVENTURE
You can't beat the show EAA's Airventure puts on each year. But sadly, as you all know, things have been quite different since the beginning of last year and the world's best air show had to be cancelled due to the nature of things (I wont mention it). But this year we have the ability to take a unique approach and bring the show "quite literally" to the virtual world!
MARK YOUR CALENDARS!
The 2021 Virtual Oshkosh Airventure will be held from JULY 31st through AUGUST 1st for the first time in Microsoft Flight Simulator History! Come join the community for loads of fun and a few laughs! Anyone can join whether they are new or experienced pilot!
INFO
Here is what you need to know to make the most out of your virtual Airventure experience:
The event will be held on the Eastern USA server. Please make sure you can see "all players" before loading in.
We will be using the Microsoft Flight Simulator Discord server for normal voice communications but it is not required. Here is the link: https://discord.gg/Z53UaF62Zm
ATC will be provided only if there is a qualified controller available through VATSIM but is also not a requirement.
Thanks to a wonderful community developer "squawkingVFR" you have the option to download an amazing plugin that adds colored dots to the primary runway that is used just like it is in real life! These dots are used by controllers to tell pilots where to touch down on the runway. If you would like to try it out yourself here is the link: KOSH - Witman Regional Airport - Colored Runway Dots » Microsoft Flight Simulator
During the event it is recommended turn off the option to have generic aircraft sitting on the ground. This will prevent you from seeing two planes parked inside of each other. You can do this by going to "Options" > "Preferences" > "Traffic" > then turn aircraft on airport option to zero.
If you didn't already know, some people may not see the correct aircraft another person has due to the fact it is an aircraft they downloaded that you do not have. If you would like to make sure other people see the exact aircraft you are flying it is recommended to stick with the aircraft provided by Microsoft but is not required.
Airport Layout
Yellow indicates parking for normal size aircraft
Red indicates parking for large aircraft
Courtesy Requests
The primary runways that will be used are 18 and 36. Please use the real world direction of the wind to determine which runway is being used (you do not have to use live weather in-sim if you don't want to).
If you would like to load in at Oshkosh please do not spawn on the runway.
while this event is for new and experienced pilots, we ask you try and maintain a certain level of professionalism when operating your aircraft to make the event fun for everyone.
Before taking off, verify there is no one on final by looking both ways. When landing, maintain proper distance between you and anyone else trying to land. Verify there is no one on the runway trying to take off. It is understandable there may unfortunately be people who spawn onto the runway and do not move so use your best judgment.
The use of all other runways besides the primary should be avoided.
Please feel free to show off your maneuvers but be mindful of the active runway.
THATS ALL WE ASK!!!
Feel free to comment below for any suggestions. This will be an exciting event!
THANK YOU AND HAPPY FLYING!! - Captain Seth