Haha! I'm parked in the air! Thanks Orbx Alesund!
Thanks. They showed up on takeoff.
I guessed it was. Great scenery at least!
That was a nice flight, lots of good chat in the official Discord. Many thanks to @SeedyL3205 for the flight plan, it was meticulously crafted and I am definitely saving it for another flight.
How to you handle the audio in that case?
I once tried joining the voice channel on discord while at the same time running the twitch stream (to follow the guides etc) and it was just annoying to have the two audio streams in parallell.
So i decided I go for the livestream only to at least hear some facts etc.
I don't, to be honest. I have Discord set to attenuate sounds, i.e. sounds in other applications are lowered when someone speaks in Discord. So when no one is speaking I'm listening to the stream, but when someone speaks in Discord I hear them instead. I can interact with the people in Discord so I prefer them to have priority.
Some screenshots, great route yesterday
.
Last week was a fun event
tonight is none?
This week's fly-in was cancelled, probably due to the incoming hotfix.
Someone really needs to do the DEM for Norway, like has been dome for Finland.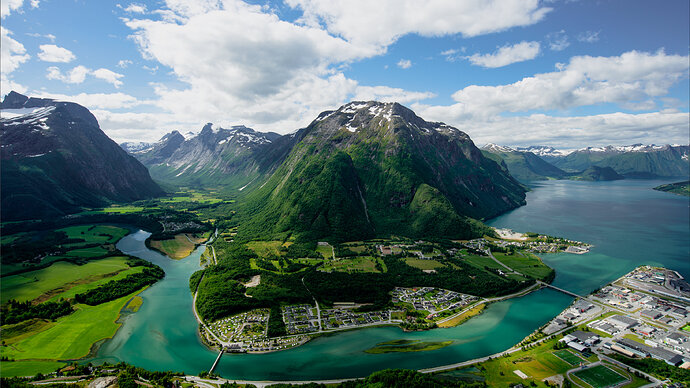 There's definately a potential.
We came in to the fjord on the right during the fly-in. This is Aandalsnes.
I have installed all the Norwegian items from .to since August and enjoy flying there. Of course now we have the H135, it's even more spectacular.