We will be hosting an Official Fly-in alongside a group of community members (you!) on Twitch. This is an open event, free to those who would like to fly along with us and available for all skill levels. The goal is to have a great time, explore new locations of the world, and make new friends.
Hosted by @Jummivana, @Pieter1982NL, @SeedyL3205, and Local Guide @zkdos!
When: Friday, 1900Z, for two hours.
Where: The Official Twitch Channel of MSFS
There will also be a Discord event channel open for those who want to voice chat.
Please see below for details on the upcoming Fly-In Event.
FLIGHT DETAILS
It's time to head back to New Zealand with our favorite IRL ATR pilot @zkdos! Enjoy this guided tour around the beautiful Marlborough Sounds at the top of New Zealand's South Island, that visits two fantastic addon airports for MSFS. Set your departure time to sunrise, and add a high level of cloud for best results! More information: https://worldtour.flights/flightplans/324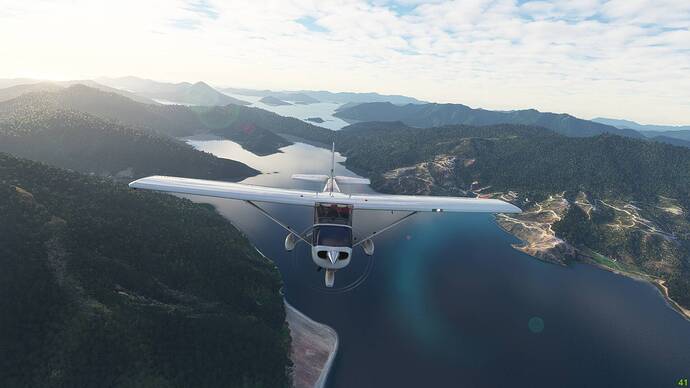 Screenshot by
@zkdos
We will be using the following add-ons, but of course this is optional:
AIRCRAFT
Recommended aircraft: Cessna C172, Diamond DA40, Cub Crafter X Cub, JMB VL-3
We will be starting at NZWB on 24L or 24R. Please load your aircraft 10 minutes prior to take off and taxi over to the taxiway or parking.
MULTIPLAYER SETTINGS
Please adhere to the following settings so you can see everyone / be seen by everyone.
| Variable | Setting |
| --- | --- |
| Server | North Europe |
| Multiplayer | All |
| Live traffic | As desired |
| Weather | High cloud layer for atmospheric visuals |
| Time of Day | *Sunrise 0745m local |
COMMUNICATION
To communicate with others, a voice channel on the "Official Microsoft Flight Simulator Discord" at https://discord.gg/msfs will be available to join.
It is advised in this flight to turn off both aircraft collisions and terrain collisions. If you do crash, you can use "slew" mode to join the pack. If the pack will be too scattered before the first stop, we will use slew on a defined point to regroup.
FLIGHT PLAN
A .PLN file is provided here:
Marlborough-Sounds-Dawn-Patrol-MSFS-stream.pln (7.4 KB)
To use the flight plan, follow these steps:
Download the flight plan to a easy-to-remember location
Open MSFS
Go to the World Map
Click "Load/Save" on the bottom of your screen
Click "Load"
Navigate to the downloaded flight plan
Click load.
LET'S FLY
This is meant to be a fun and informal flight. Everybody is welcome, no matter the amount of experience.