Note the time change: with Europe and North America now on Standard time, we have switched the start time of Fly-In Friday to 1900Z. The start time in your local time zone may or may not be different now.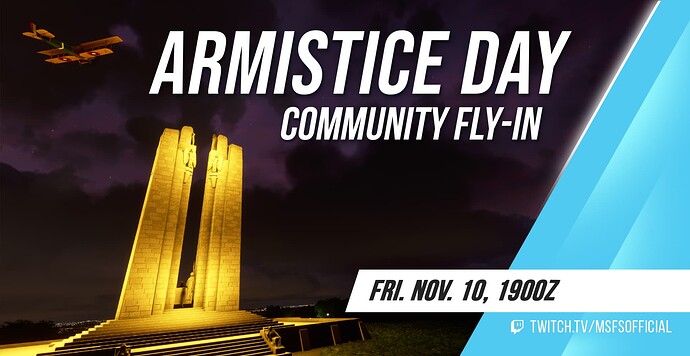 We will be hosting an Official Fly-in alongside a group of community members (you!) on Twitch. This is an open event, free to all who would like to fly along with us and available to pilots of all skill levels. The goal is to have a great time, explore new locations of the world, and make new friends. This event is open to pilots on both the PC and Xbox platforms.
Hosted by @SeedyL3205, @Pieter2427, @simtom2, and Herman@s
When: Friday, November 10 @ 1900Z for two hours.
2023-11-10T19:00:00Z
Where: The Official Twitch Channel of MSFS
There will also be a Discord event channel open for those who want to voice chat with other members of the community.
Please see below for details on the upcoming Fly-In Event:
FLIGHT DETAILS
November 11 is recognized as Armistice Day (also known as Remembrance Day in the British Commonwealth and Veterans Day in the United States), a holiday marking the end of the First World War in 1918.
For our Fly-In this week, we will be visiting some sites along WWI's Western Front in France

and Belgium

, including Verdun, Passchendaele, Ypres, and Vimy Ridge. Our full stop landing will be at Compiègne, near the exact site where the Armistice was signed on November 11, 1918.
For the best experience, be sure to download the free World Update IV: France & Benelux from the Marketplace. This update includes two relevant POIs along our flight plan: the Douaumont Ossuary and the Canadian National Vimy Memorial.
Pilots on PC can download the .pln file here:
2023-11-10 Armistice Day.PLN (3.8 KB)
We will be starting at LFGW. Please load your aircraft 10 minutes prior to take off and taxi over to the runway in preparation for departure.
AIRCRAFT
Recommended aircraft: Diamond DA40, Cirrus SR22, JMB Aviation VL-3, or any other plane of your choice that can maintain a cruising speed of 130 knots or greater.
MULTIPLAYER SETTINGS
Please adhere to the following settings so you can see everyone / be seen by everyone.
| Variable | Setting |
| --- | --- |
| Server | SE Asia |
| Multiplayer | All Players |
| Live traffic | As preferred |
| Weather | Few Clouds |
| Time of Day | Daytime |
It is advised in this flight to turn off both aircraft collisions and terrain collisions. If you do crash, you can use "slew" mode to join the pack. If the pack will be too scattered before the first stop, we will use slew on a defined point to regroup.
COMMUNICATION
To communicate with others, a voice channel on the "Official Microsoft Flight Simulator Discord" at https://discord.gg/msfs will be available to join.
LET'S FLY
This is meant to be a fun and informal flight. Everybody is welcome, no matter the amount of experience.