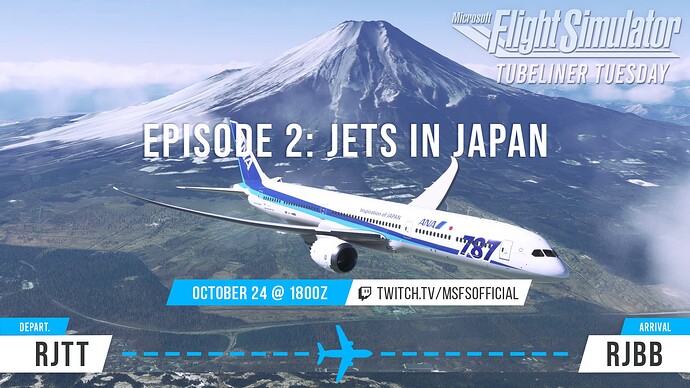 TUBELINER TUESDAYS: EPISODE 2 - JETS IN JAPAN
Community Manager @Chewwy94 will be hosting the second stream in our new weekly Twitch.tv series called "Tubeliner Tuesdays".
When: Tuesday, October 17th @ 18:00z for two hours.
2023-10-06T18:00:00Z
Where: The Official Twitch Channel of MSFS
Please see the details for the upcoming event:
FLIGHT DETAILS
A domestic flight across Japan is the setting for the second episode in this series. Departing Tokyo Haneda (RJTT), we will venture west to Osaka Kansai (RJBB) with Al Nippon in the default Boeing 787, available to all Premium Deluxe owners of Microsoft Flight Simulator. This aircraft has had recent updates in Sim Update 13 including an Electronic Flight Bag to calculate takeoff performance, which we will cover during the stream.
Scenery for the flight will be provided by freeware developer Karuchie and payware developer TechnoBrain.
If you want to join in and replicate the flight, the route is as follows: RJTT LAXAS Y56 TOHME Y54 KOHWA Y544 SINGU Y542 DATIS RJBB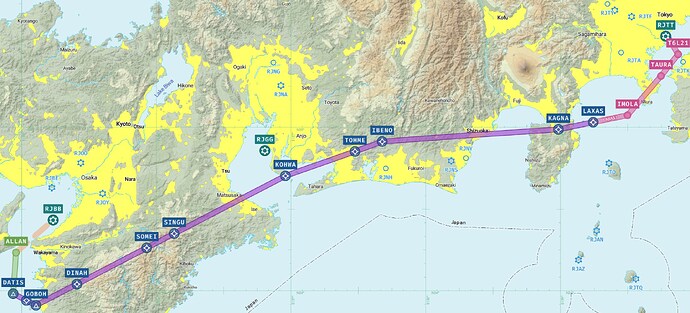 MULTIPAYER SETTINGS
For the pilot episode in this new series, the flight will be conducted offline. In the near future we hope to utilise the VATSIM Network to further enhance the realism of our airliner flights!