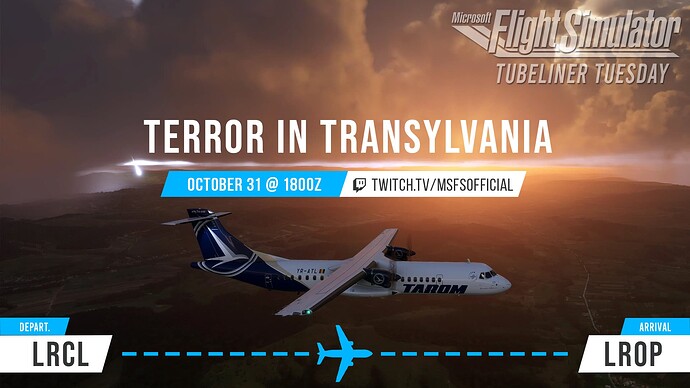 TUBELINER TUESDAYS: EPISODE 3 - TERROR IN TRANSYLVANIA!
Community Manager @Chewwy94 will be hosting the third stream in our new weekly Twitch.tv series called "Tubeliner Tuesdays". Be warned all who enter, your host may be dressed to scare!
When: Tuesday, October 31st @ 19:00z for two hours.
2023-10-06T18:00:00Z
Where: The Official Twitch Channel of MSFS
Please see the details for the upcoming event:
FLIGHT DETAILS
It's officially spooky season, and to celebrate Halloween we'll be flying across Transylvania for this week's episode of Tubeliner Tuesday. Operating flight RO644, we will journey from Cluj-Napoca Airport (LRCL) to Bucharest (LROP) in the ATR 72-600 for Tarom Airlines.
Airport scenery for this flight has been provided by freeware developer lcristea.
If you'd like to join in and replicate the flight, the route is as follows: LRCL IRLOX BIVBU TOSVI LROP

MULTIPAYER SETTINGS
For the first time on a Tubeliner Tuesday stream, we will be flying on the VATSIM Network to further enhance the realism of our airliner flights! Please see further details about the network and its rules via the link above.