On a early and cold morning, departing Stewart British Colombia (CZST) heading to Ketchikan (PAKT) I truly realized how beautiful this sim can be. I've been impressed, shocked, and down right in awe a million times since this moment. But this was the first real 'whoa' moment for me. Keep up the amazing work Asobo and Microsoft teams!
Cessna T182T Skylane, Stewart BC, CZST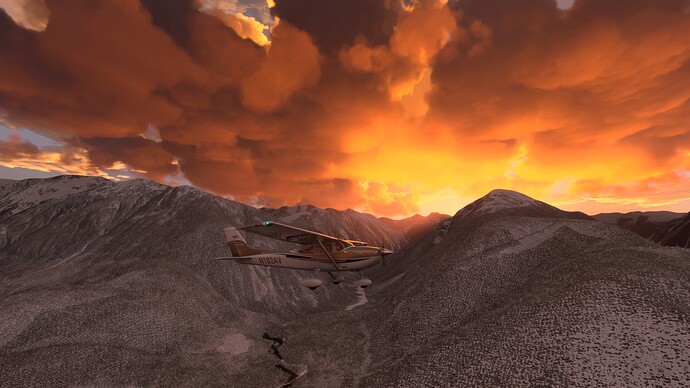 Moraine Lake, AB
Mauna Kea, Hawaii
Hagia Sophia, Istanbul, Turkey
Holmenkollbakken Ski Jump, Oslo, Norway
Rio de Janeiro
Golden Gate Bridge, San Francisco, Calif.
Waskisu, Saskatchewan, Canada (Prince Albert National Park)
Opening scene of Top Gun (1986) as seen in MFS2020
New York City, NY, USA
My favorite and most relaxing flight was the final leg of my Texas cargo run. 2:40hr flight back to the Memphis hub from Houston. The weather and sunset was beautiful on this flight! Thank you so much Asobo and Microsoft for such a beautiful simulator!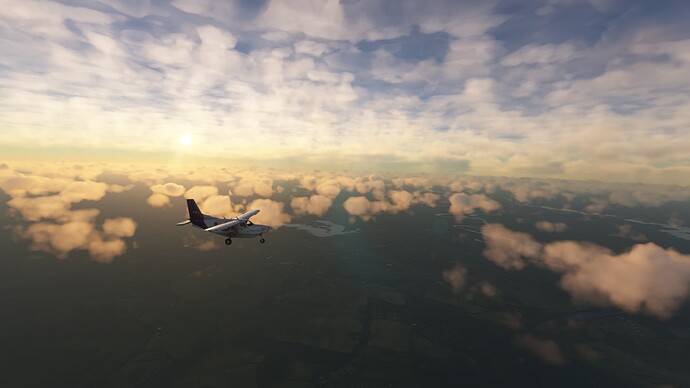 My very first flight 2 years ago. It was night here in the UK when it had finished installing & I wanted to experience the live weather (in daylight) so I chose New Zealand because I'd always wanted to travel there, I believe from Oamaru to Dunedin, total random picks. I was genuinely in awe. Pictures will never do it justice & I'll never forget that flight.
My first flight in the brilliant FlyingIron Spitfire, where it belongs, above the English countryside. I was really impressed & relieved that they'd done such a great job. It was the best 3rd party aircraft at the time & is still amongst the best.
A strange & nostalgic experience was flying the very well done Grob Tutor. I was lucky enough to fly aerobatics with the RAF & air training corps a couple of times & jumping into the Grob brought a lot of memories back of my first real world flight & those amazing feelings.
When the F/A-18 released I couldn't resist loading into Miramar straight away. Everyone else had the same idea, I must've spent 20mins just sat watching & hearing F/A-18's coming & going.
It's rare to not have an engine running & it doesn't exactly come across in a picture but it was just really nice to look around the T-6 Texan at Duxford with the birds chirping & wind blowing.
As someone that absolutely loved the FSX missions, the Top Gun DLC was brilliant & that Darkstar mission with the building music as you experienced speed & heights not done so before was thrilling.
One of my favourite places to fly is around Gloucestershire & the Cotswolds in England, especially when the weather is decent. Doesn't matter what I choose to fly but combining it with the gorgeous JU-52 was a great choice.
I am not a hardcore simmer at all and I never had a pc powerful enough to run MSFS.
When the 2020 version hit consoles, I was curious though, and I started exploring. There is something so relaxing about just picking a spot in the world and flying there for a while, taking in the environment.
This first screenshot was one of my first flights, somewhere in Tuscany, Italy I believe.
The other shots are more recent highlights.