thought this might be usefull for windows 11 / MSFS users
Interesting. Not the first time that it's been suggested to disable something related to virtualization, but a first for Microsoft, perhaps.
Only downside to it is that it breaks WSL2 until you re-enable it. Now, if you could add/remove the platform without a reboot, then you could just script the thing and be done.
Either way, I'll give it a try!
Me too! is not made clear whats the gains and how it helps improve performance, but worth a try.
I just updated last week to windows 11 and so far having a smooth experience.
it is all off ( not installed ) per default…
and so why they are telling people those tips?!
I have mentioned this for a while now. Turning off Visualization definitely makes a difference.
It did for me at least. Gave me about 8 more fps average.
I found both to be off by default.
Well, if you turn off visualization you should gain at least 1000 FPS!
sorry, could not resist…
I type CORE ISOLATION and get this message…
Visualization is OFF by default like some users mentioned.
That would be the ultimate "optimisation"

HVCI used to be enabled by default for me. Then a few weeks back I noticed the shield in the tool tray had an exclamation point on it, which usually indicates Defender hasn't run it's scheduled scan for some reason. Actually I found HVCI was disabled, and couldn't be enabled because of some drivers, including the Logitech panels.
I spent about an hour trying to remove those drivers, resorting to PNPUtil to do so, before I could enable it.
I guess I'm just turning it off again to retest.
yes… some drivers prevent that it can be enabled. It also depends on whether Virt.Support is enabled in BIOS, etc… Core isolation exists since windows 10, and I have this disabled. Useless stuff in my personal opinion and I let me not force to uninstall some tools I need, only because these useless feature needs drivers which match exact what the OS creator dream from .
By the way… these article… why a "Freelancer" write some post which is nothing else than duplicated informations ? We see "why" if we click on the link to the original microsoft post ( in special that link! ): it is blocked in my net and why - because it run through " click dot linksynergy dot com ", ah marketing and analyse site

Just running some tests this morning. For reference, in SU8 I could get 43fps in these tests at 400/200, and in SU9 I had to change that to 300/200 to get the same performance.
Existing setup, EGLL gate 226, Asobo default 172, Clear skies, no AI or Live traffic, DX12/TAA, all Ultra except Motion blur which is disabled.
HVCI on, virtual machine platform already off so I won't be enabling that.
Now disabling core isolation, and rebooting.
HVCI disabled, negligible difference for me. I briefly saw it hit 38 once.
I then tried disabling HT in the BIOS, which I had never tested before. Again, a small but measurable difference, peaking occasionally at 39fps. Interestingly I found my BIOS has the option to selectively turn HT off on a per core basis, so I could opt to disable HT only on cores 3, and 7 if I wanted. Not sure why I would do that, but thanks Gigabyte for giving me the choice.
I've read a lot of hyperbole about these settings, where some seem to claim miraculous gains, but I'm not seeing that. 1-2fps gained for some settings, measurable, tiny, but worthwhile since there is zero effort in doing so. I'll be sticking with this setup for a while.
Despite the loss of 4fps since the SU8/9 days, it "feels" smoother, head tracking seems to be working quite nicely, and this is about as busy a scenario I can think of, what with London's PG looming to the East.
Final test for this morning is to switch back to DX11.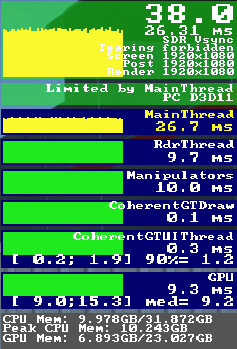 I saw 39fps appear more often than before. The big difference is when I move my view about I get the horrible stuttering as the CPU spikes, which I don't see with DX12.
DX11 is dead as far as I am concerned.
I did the Virtualising Off thing last night.
iniBuilds Heathrow,
Stormy preset
Miltiplay/AI Traffic off (to remove load inconsistencies)
Just me, the plane in a heavy airport in heavy weather.
With Virtualisation on my frame peek was 62-63. Panning varied but in the range of 30ish-63
With Virtualisation off it was pretty much the same except the peek was now down to around 58 (it never once went over 60) in the 5-10 mins I tested.
So this isn't the solution, for me anyway
Mmmm… I would just suggest not to disable Memory Integrity. This is security protection against malware. Be careful with those gurus that write something in a web and don´t provide any facts but just some generic words, even if it´s a well know site like TH.
Cheers
I didn't disable virtualisation, just HT in the BIOS.
Yes, I think I was replying here to a totally different thread which I was reading last night:-) Someone was claiming they gained 8 frames. Oh, well. I'll be fully awake soon
these gurry copy-pasted from microsoft

… but as sayd… for me is these whole core isolation a useless marketing gag and may be 99% of users have it not enabled because the preconditions are not fullfilled and noting bad happens - not more or less malware attacks, less or more virus, simple nothing.
@mk1234444 yes, that was another topic… I also not know why we switch here to virt.support