I'd like to suggest that this thread be for tips on how to create better pictures in MSFS. I'm not a photo expert by any means but I just took note of a way to enhance pictures by adding a little zoom to the drone camera view. Perhaps other folks have additional suggestions they'd like to add to this thread. And maybe the @moderators can invent a "photography" or a "photography tip" tag - same for video?
Below is a scene over the Missouri River from the Mann Gulch Region of Montana. There is a lot of foreground in the default drone camera settings and distant objects look, as they are, far away and relatively small with hard to discern details.
50% Zoom. Click to see full picture! Camera Settings left in picture.

The next picture is the VERY SAME CAMERA VIEW. Nothing has changed but the zoom level, which is now 71%. The result in zooming is that there is much less foreground, distance has been foreshortened, far away objects now appear closer and much more imposing, interesting detail can now be seen in the dry hilly region at the top middle horizon that was very small in the previous picture's zoom level.
71% Zoom. Click picture to enlarge!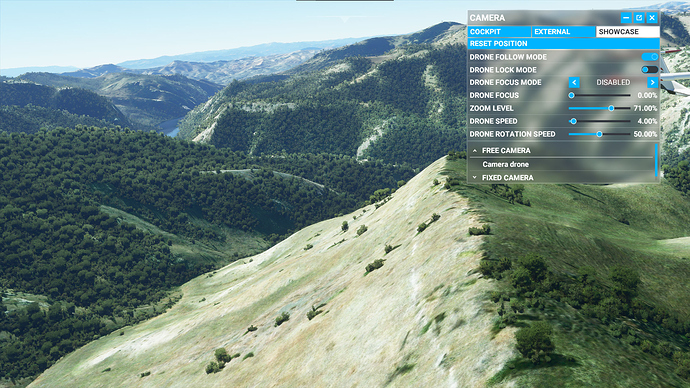 Another use of zoom level is simply making your sim picture look more like a famous canonical picture of a landmark. For the reasons given above, a moderate telephoto lens is often used in capturing the view of a notable peak as the telephoto effect can help a mountain look more imposing, to appear bigger and looming closer. So you may need to add a little zoom to a sim picture to make it look closer to a well-known view taken of a famous mountain. Or if a photographer at the summit of a mountain took an extreme wide angle, you might need to go the other way in MSFS to get a similar effect.