Not actually in the store yet.
Get ready for more problems.
Ok, so just picked it up, now in the store, and took it for a short spin around the block. Good to have my old standby back again. This was my goto plane in P3D. It's beautiful in FS.
I'm getting it first thing this weekend; I trained on a Seminole and would love to keep sharp over the COVID-19 winter with no flying at my local club.
Pretty impressed so far… watching a guy fly it on a stream. Looks good.
Based on how much I like the Carenado Mooney, I bought it took it around for a few short flights at Princess Juliana, and Kelowna/Kamloops. Really nice.
Carenado have done a phenomenal job with this one, based on what I am seeing in CanadianCaptainMoustache's twitch stream right now. They got proper adverse yaw this time too apparently. This might be the first payware aircraft I'll buy for MSFS, and will serve as a proper multi-engine trainer for the upcoming A2A Aerostar.
It's ok so far, I actively instruct on Seminoles. But here's my list of nitpicks.
no suction gauge despite having a non-electric attitude indicator
missing alternate static, emergency gear extension inop, some other minor switches inop
circuit breaker setup makes no sense for the equipment on this model(the steam gauge version of this plane was 'tacked on' to the original GTN 750 glass cockpit model late in development)
fuel pumps are too loud, fuel pressure is not simulated well.
engine/oil temperatures are not simulated well.
alternator/battery load not simulated well.
cowl flaps have no effect on speed or engine temps, but are operable.
carb heat has no effect on engine performance
turning fuel tanks off kills the engines too quickly when you try to crossfeed
autopilot has no disconnect button visually modeled, electric trim is not visually modeled despite working.
custom AP is ok, not incredibly realistic and may not hold altitude in certain conditions.
cowl flaps have no effect on engine temps or speed(sim limitation?)
prop drag isn't well simulated(sim limitation)
each engine has a separate gear warning horn for some reason
single engine performance is unrealistically poor
thermometer doesn't work, but has an OAT function in the transponder you can use
beacon strobe should be on with wing strobes in 'Strobe Lights' position
airspeed indicator sub-dial causes a CTD
DME dial causes a CTD
US Update: Sun visors causes CTD
US Update: Door causes CTD
US Update: Window causes CTD
Good things:
looks decent, sounds decent(some poor textures, sound is not very realistic but believable)
fun and easy to fly, performs well if not a bit slow for a twin
you can feather the engines!
adverse yaw is well pronounced and modeled
stalling with one engine failed(VMC) will spin you out and kill you!
steam gauges are cool, yo
you will probably really enjoy this plane if you don't think too hard about it like I do
I got it today and logged an hour in it with 5 landings and a short 20 minute flight @6000'
The AP took me a minute to figure out, but other than that. I like it alot. It'll take more time for me to say for sure, but this may be my goto for awhile.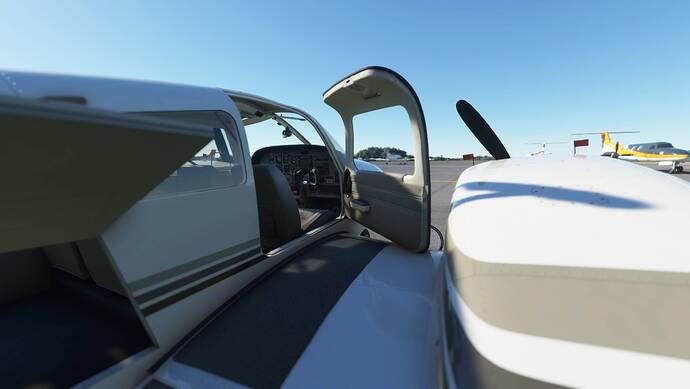 Does the Xpdr work? I have the M20 and it doesn't actually update the Squawk so is useless for online flying
All functions on the transponder seem to work, yes.
I'll be downloading it when I get home from work in a few hours. I wanted to watch some reviews on YouTube, but couldn't find any. I love the M20R, so my negative opinions of Carenado from my experience with their X-Plane aircraft is fading. I haven't been able to justify buying the 182 yet though, since I really don't like Cessnas.
The T182T is my most used plane because 1) I like the better ground view of high-wing planes, 2) it climbs great and cruises without a sweat at 20k ft 3) it stills keeps the "land almost anywhere" quality of small Cessnas.
The PA44 looks very impressive, but I'll think about it when I can grab the Honeycomb Bravo (this is probably months away) as a twin-engine trainer would be frustrating without six levers under my right hand.
I'm not sure, I was just testing it out today so I didn't use Vatsim with it, I will tomorrow and I'll let you know.
I like the 182T also, though I wish it had a steam gauge option, I don't really care for the glass cockpits outside of a jet. loses some of the soul I guess lol. But it flies very well, and looks great. I've yet to be unimpressed with any of the Carenado offerings for FS2020 thus far. (minus the unfortunate state of the Mooney right now, but I won't blame them for that yet)
@GiMeDaCash if you love the Mooney, you'll love the Piper. The Mooney was a favorite of mine also.
Oh I agree, I like both glass and classic cockpits, and I think commercially it's a missed opportunity to not include both. It should not add massive development time to only change the panel, and I think it would convince more people to open their wallet for addon planes, if they were sold as a pack offering both versions.
Of course it would not make sense for every plane, but the early T182T had classic instruments.
Sorry for off-topicness, back to Piper.
I didn't mean to sound negative with my comment on the 182. It's not that I dislike cessna specifically, I actually wanted to say that I don't typically prefer single engine piston, however I do occasionally fly the bonanza…I think it's actually more of I don't particularly like fixed landing gear and the slow speeds. (Do keep in mind that I've never tried the 182, and I don't know it's speed) I do tend to gravitate towards twin engine though. My dilemma is more about spending $30 on an aircraft I'll likely rarely fly, even if I like it. I have the premium deluxe, so I already have two versions of the 172, and two versions of the 152. My opinion can change though, as I wasn't interested in prop planes at all until MSFS. I was all about business jets in X-Plane 11. I will likely buy it eventually. I apologise for getting off topic in this thread as well. That wasn't my intention.
@Haddock314945 I'm on week 1 production for the Bravo, so theoretically, if things go according to plan, mine should ship in 10 days, which I'm really excited about. (If I don't sound excited, it's because it's 6am here and I just got home from work​:sleeping:

)
I'm downloading the Piper as I type this😁
Some words on the FPS Performance, outside and inside difference?
You guys are twisting my arm right now. I'm buying it after work!