Here you can post your plane parked at the gate.
Here's my Air canada 777-300 parked at Toronto intl airport:

Air Canada Jazz 8680, (JZA8680) Stand A3 at KMSY (Real World Ops). Currently enroute to CYYZ on VATSIM.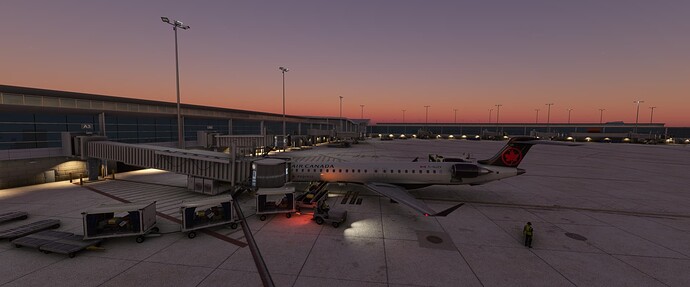 I have a question, do u only like Crj's only or like flying them or both?
For commercial, yes I am on the CRJ and fly for a VA.
For private / GA I am currently in the C310R.
You can see my full flight sim journey documented here;
I don't hop from plane to plane or teleport. I will only fly from where I left off.
oh ok are you a real pilot?
No sir, I just play on in flight sim

oh ok, can u post me some good pictures of ur plane please? cause I want to see ur flights.
Go to the link I posted above and in the "Summary" you will see links to each segment that contains photos.
Nice! I liked ur adventure is it still going on or what?
Yes, in the C310R and CRJ topics.
My faviouret plane is the 787! I have a question, do you want to do a group flight with me this Friday?
Cool, if you enjoy flying it that's all that matters.
I'm good thanks, but appreciate the offer. I typically just stick to my own routes and fly on VATSIM. Thanks anyway
Its okay and no problem:)