Is there a recommended wireless keyboard for MSFS 2020 ?
i use this,logitech k480 the great thing is can connect an ipad or android tablet to them all at the same time, and switch between modes using the yellow dial top left. quite handy if you also like to have a tablet running at the same time. its good and not expensive less than 50 euro
I bought the Microsoft Wireless Desktop 900, keyboard and mouse for 41.99 €. Very flat, full keyboard with numeric keypad, direction arrows, etc., that's perfect for me.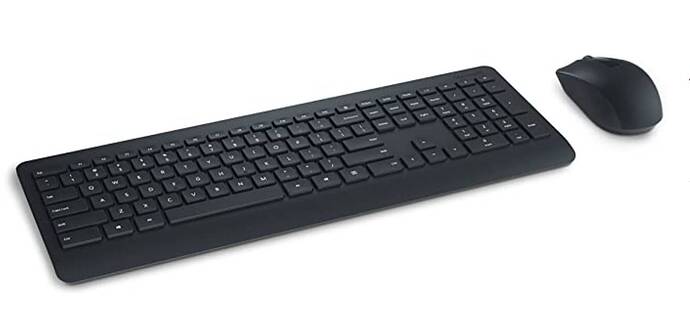 I use an ARTECK HB192 Bluetooth keyboard.
Edit:
Coffee spilled on this keyboard killed it.
Replaced it with a Microsoft Keyboard & Mouse Combo.
Microsoft Bluetooth Desktop - Matte Black from Amazon - $36.99
Excellent, Both use AA Batteries.
Microsoft Bluetooth Mouse is your go-to mouse—compact, modern design that fits comfortably in your hand.
Connects wirelessly to your Windows laptop via Bluetooth. You can connect it to your Windows 10 PC right out of the box when you enable Swift Pair.[3]
Extra-long battery life. Keyboard: Up to 2 years.[1] Mouse: Up to 12 months of battery life.[1]
I use Logitech's MX Keys and MX Master. I can place the keyboard on top of my Honeycomb Yoke. Keep in mind you have to charge a wireless keyboard regularly. Approx. biweekly.