Are you using Developer Mode or made changes in it?
No
Have you disabled/removed all your mods and addons? If the issue still occurs with no mods and add-ons, please continue to report your issue. If not, please move this post to the Community Support section.
I don't have mods or addons installed
Brief description of the issue:
It's the same for all default aircraft I tried (A320, etc.), but I'm unable to make the toggle reverse thrust to work. The only workaround I found is to have this feature mapped to the "press to reverse thrust", but need to press continuously. It's the setting above or bellow. I don't have the game opened right now.
Provide Screenshot(s)/video(s) of the issue encountered: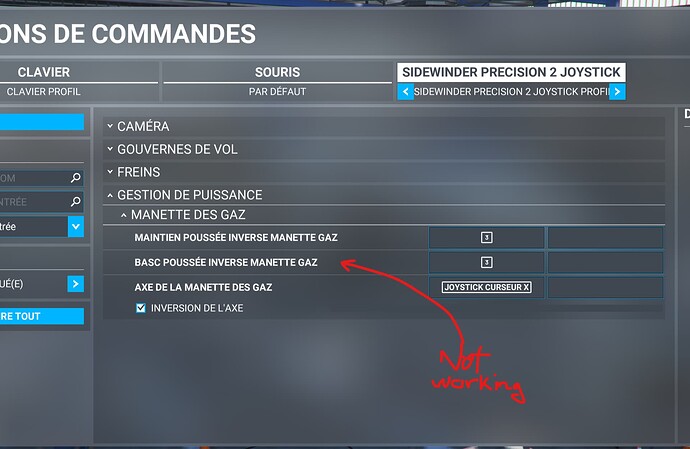 I know the same button is mapped two time. It didn't work, so I mapped the same button to the other one temporarily. It's very annoying to continuously press the button.
Detailed steps to reproduce the issue encountered:
Map button, try to press and release, use your throttle and see if it goes reverse. It doesn't.
PC specs and/or peripheral set up if relevant:
Build Version # when you first started experiencing this issue:
1.33.8.0
---
For anyone who wants to contribute on this issue, Click on the button below to use this template:
Do you have the same issue if you follow the OP's steps to reproduce it?
Provide extra information to complete the original description of the issue:
If relevant, provide additional screenshots/video: