saint helena is missing, FHSH, anyway that i can add it?
There seems to be a number of remote airports that are missing completely. Vagar Airport (EKVG) in the Faore Islands are missing as well. St. Helena is still a pretty new airport, so the AI data for that region may have not included it. Might have to wait for a 3rd party to create something.
Don't know if my post will get flagged as "bad press" but there was a very funny tech article gathering various Tweets of striking FS 2020 scenery anomalies. Overall, the general agreement is that FS 2020 is Totally Awesome but it can occasionally render very unique monumental structures in very entertaining ways, e.g., Buckingham Palace as a generic office building block.
Microsoft Flight Simulator Has Launched With Some Monumental Anomalies

From https://www.gamespot.com/articles/microsoft-flight-simulator-has-launched-with-some-/1100-6481124/
Following the links in the article to the actual Tweets and reading some of the ripostes made by people responding to the landmark renderings is very entertaining. Presumably such reports also help MS with FS 2020 in pointing out geographic locales and unique structures that could be fixed up a bit in a simulation that's already stupendous in general.
(sorry if this is off-topic to missing small airports - but it is related to things not quite where or as they should be - maybe some small airports will be MIA just because the rendering engine turned them into something else!).
St Helena Island airport missing.
@worldc83 welcome to the forums.
Although this bug may have been reported before, it is best that you report it as well to Zendesk. Bug tracking is not done in the forums even though the devs may sometimes view the forums. More bug reports will result in the bug being prioritized and may result in the bugs being fixed faster.
When it comes to insteresting Airports, i'm very surpised that St. Helena Airport isnt even there in the game. Its one of the most remote Airports with multible TV Documentaries and well-known Aviation Youtuber videos about it, And i'm not talking about these payed detailed Airports, there isnt even a runway.

Would love to see it in the Game.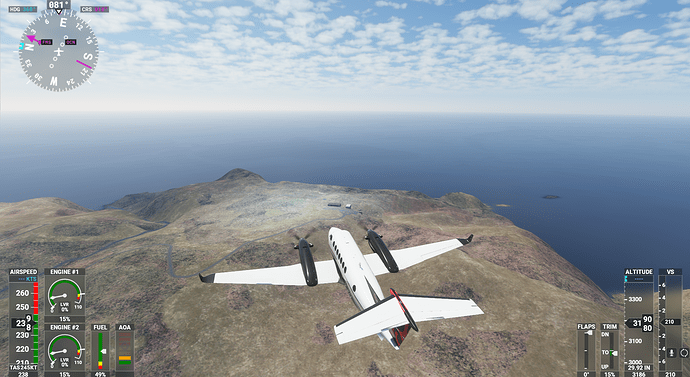 If you check out the Ascension Island on Bing Maps and select Aerial you will see that the quality of the imagery is pretty poor and hasn't provided enough for the scenery AI to properly model the terrain/buildings/airport.
I'll add a comment about it, to Bing, and maybe you could too. It possibly won't make that much difference, but if you also put it on zendesk, then MS might chase Bing too.
I joined this community just to complain that Saint Helena is not in the game!!! I thought it was every airport on earth! I understand why some structures and scenery aren't perfect, but it seems like a basic thing to expect that a flight simulator that has the whole world should have every airport in the world – especially one as famous and well-known as being the most remote on the planet!
Not so pretty, but you get the airport. I have had it installed for ages now.
I moved this to the new Bugs & Issues category.
There is a pretty comprehensive list of missing airports here: Missing Airports Sent to Zendesk
Make sure to vote in that thread.
FHSH is reported as missing in that thread
This topic was automatically closed 30 days after the last reply. New replies are no longer allowed.