Multi GPU and SLI support for VR has been around for some time. It improves performance allowing higher rendering resolutions AND lowers latency between frames. This will make the MSFS VR experience more photorealistic and smoother and thus more immersive compared to single card configurations. MSFS VR users can immensely benefit from this if they have the correct video card.
Current and Future SLI owners will only need Microsoft developers to enable SLI support in MSFS 2020 by utilizing Nvidia VRWorks (NVIDIA VRWorks™ | NVIDIA Developer).
Not utilizing this since launch is a missed opportunity considering how resource-demanding MSFS is and considering how many hardcore simmers MSFS have.
The following video explains this setup: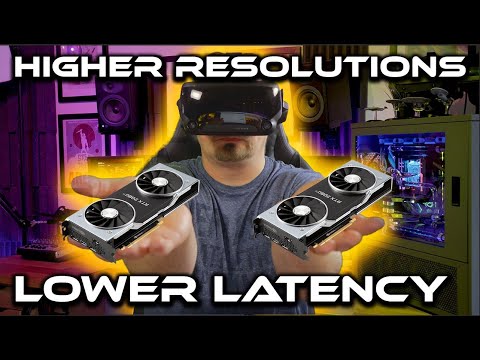 Video cards that support SLI:
GeForce RTX 3090
GeForce RTX 2080 Ti
GeForce RTX 2080 SUPER
GeForce RTX 2080
GeForce RTX 2070 SUPER
Nvidia Titan Xp
GeForce GTX 1080 Ti
Nvidia Titan X
GeForce GTX 1080
GeForce GTX 1070
GeForce GTX TITAN X
GeForce GTX 980 Ti
GeForce GTX 980
GeForce GTX 970
GeForce GTX 960
GeForce GTX 950
GeForce GTX TITAN
GeForce GTX 780 Ti
GeForce GTX 780
GeForce GTX 770
GeForce GTX 760 Ti
GeForce GTX 760
GeForce GTX 690
GeForce GTX 680
GeForce GTX 670
GeForce GTX 660 Ti
GeForce GTX 660
GeForce GTX 650 Ti BOOST
GeForce GTX 480
GeForce GTX 470
GeForce GTX 465
GeForce GTX 460
GeForce GTX 460 SE
GeForce GTS 450
GeForce GTX 555 (OEM)
GeForce GTX 560 Ti (OEM)
GeForce GTX 560
GeForce GTX 550 Ti
GeForce GTX 590
GeForce GTX 660
GeForce GTX 560 Ti
GeForce GTX 545 GDDR5
GeForce GTX DDR3
GeForce GTX 570
GeForce 9800 GT
GeForce GTX 580
GeForce 9600 GT
GeForce 8500 GT
GeForce 8600 GTS
GeForce 8600 GT
GeForce 8400 GS
GeForce GTX 275X
GeForce GTS 150
GeForce GT 130
GeForce GT 120
GeForce GTS 250
GeForce GTX 285
GeForce GTX 295
GeForce GTX 295
GeForce 8800 ULTRA
GeForce GTX 280
GeForce 8800 GTX
GeForce 9800 GX2
GeForce GTX 260
GeForce 9400 GT
GeForce 9500 GT
GeForce 9800 GTX
GeForce 9800 GTX+