Strangely, once I started to play with VR, I didn't encounter any of those spikes. I flied totally different area though.
Or maybe in VR our brains simply ignored such anomalies that it regarded as impossible scenery?
Whaou !
I tried to flight in KRMG and what a spike !
Maybe until update avalaible, we should vote for the best bug in FS2020.
At this moment you have my vote…
Flightsim.to's fix didn't work for me, at least not in the Toronto or Seattle areas
I managed to water land over the 800km lenght waterwall in river Ebro
I suggest the flight from LEDT, RW6 to LERJ. Be careful not impact the wall.
Toronto area is a flat as a pancake as far the eye can see & no spikes around Seattle with my fix running. Both of these areas have photogrammetry cities I notice. If you're referring to the effect in your second pic posted above, that's an issue with the photogrammetry not loaded in yet. Set your terrain LOD slider as high as it will go on your rig. Cool polaroids btw. Very retro.
PS: if anyone has queries about my fix it's probably better to post here rather than clogging up the reporting thread.
Many thanks for the mod, it works well in Gapé airport and Shipshaw river in Saguenay. It's a nice gift for the New Year
Good to know! I'll try again, and increase the LOD to max. Thx!
@mappamundi
Thank you for the fix, I along with many others I am sure cant say how much this is appreciated.
I am beginning to have a Love Hate feeling towards MSFS2020.
I love it when it is working correctly, it looks fantastic runs fantastic and provides a lot of fun.
I am beginning to hate it when I am forced through the mandatory update system to update a perfectly fine working sim and you simply don't know what they may break.
For me, two of the so called updates have created major issues, The one that put skyscrapers all over the place and the last one which made all these spicks basically all over the world.
Thankfully, both were fixed, quickly by the community and the tall buildings was eventual fixed by Microsoft.
My concern is what will the next mandatory update break?
It would be great if Microsoft either did better Quality Control before releasing a Mandatory update or give users the option to not update if the sim is working fine.
I have submitted a ticket saying this.
These are my thoughts and again a BIG THANKS to mappamundi
Best wishes
Bob
This Aspen after 1.12.13.0 patch. Also the Leadville area.
In Minnesota
Just adding that I am also getting these spikes in the Toronto area. As others have mentioned, they seem to all have a small bit of water on top, and as you get close to them, they disappear.
Have not applied any mods to try and fix it yet. Presently have no scenery mods installed at all.
Still getting bad spikes around CYKZ Buttonville Airport area in north Toronto after this mod. In fact there's even more! Maxed the LOD to no avail.
I'm running a new build hi-end i7 10700 32g RTX 3080. Removed all free addons. I'm too tired after 2 months of all this amateur-style foolery from this developer. Shame on them $$
Tomorrow's another day, of fresh-hell
I've seen them in VR as well.
Can confirm spikes near EDLE, near river Ruhr. My home base actually in real life.
New years greetings from Meiringen and Interlaken in Switzerland!
Approaching the closed airport of Interlaken which is still active in the sim:

Circling east of Interlaken above the Brienzersee to show the spikes near Interlaken

On final for Meiringen. The spikes disappear if I get closer.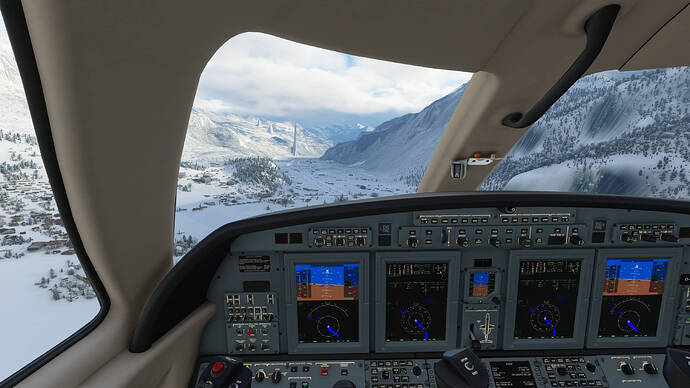 The spikes are aweful and disembellishing, luckily there are accomplished users who can produce and distribute mods. I am sure certain issues have been registered by Asobo and this sim is still a work in progress. Personally, I think that the previous update shouldn't have been rushed through. I just completed a wonderful VFR flight from Peretola to the island of Elba and it was great. This simulator gives me experiences I never had before in flightsimming, the experience of actually being there almost. Faults in the scenery quickly spoil that magical touch, but this is still the most beautiful sim I have ever "played" with since I started using the MS flight simulator in 1996.
Look at the view of Firenze (Florence), one of the most beautiful cities I have ever visited, although Siena which sadly was not modeled in photogrammetry, is still my most favourite tuscan town. Look at how beautiful Firenze looks from 6000 feet around the dome and the river Arno from the left window of the Cessna.
Cheers, Marc
Its all beautiful "eye candy", but again, what lies underneath is simply disastrous.
I can fly around in Google Earth with the same hi-res scenery, for free!
Ok, I stopped flying for a couple of days because of the scenery spikes. Then, after taking off and seeing some of the spikes yesterday, I thought, Earth has been invaded by aliens - ROFL - and the spikes are really observation towers. Now I fly in that mind-set, and it works for me. Best to have your cup half full, not half empty. Cheers!
never saw those lakes frozen
since the 50ties…