Key bindings on both the xbox controller and keyboard dont work for spoilers. anyone else having this problem?
Yes, I'm also have this issue, keyboard or joystick, nothing works. I have to enable the spoiler with the mouse in the cockpit
issue still there. the hotfix didnt fix it
Any one else getting this? Toggle spoilers does nothing both on my keyboard and my yoke system.
Yup tried on my tca throttle button and keyboard after hotfix dosent work
SOLUTION -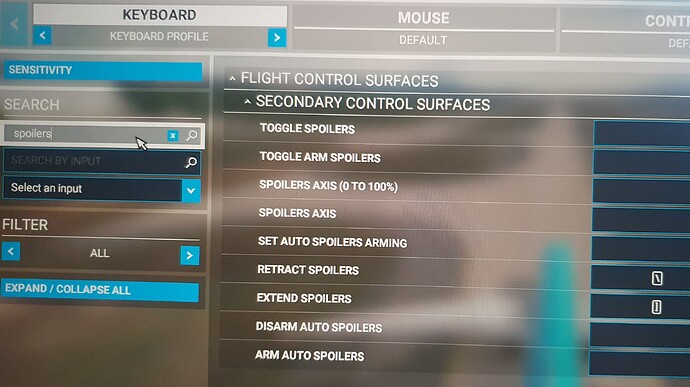 Found a fix to the problem. You need to assign 2 buttons now after the update(see pic). Search for spoilers in search, then choose your input device (keyboard) , then assign any 2 buttons to extend and retract spoilers as shown in the pic.
Yes…I am also having the same issue after the update
I'll try it.
Thanks for the heads up.
I Had toggle spoilers on my Carenado mooney, it stopped working after Su5.
But works OK if you assign it to two buttons as suggested.
Waste of a button there, toggle is an ideal option for this feature, I hope it gets fixed at some point.
Add me to this have tried everything in every post about it. Best I can get is to extend but no retract. Works fine with mouse in cockpit.