This weekend, we're celebrating the anniversary of Bush Divers with a very special Invitational. We have prizes! We will be giving away 2x Sting S4 by FSReborn, and 2x an ORBX product of choice! Everyone in the Invitational flight (and voice chat) will be entered into the draw.
Join us as we depart from Papua New Guinea's busiest airport in the capital city and head for the hills, visiting a few small mountain strips near the Kokoda Track and climbing to the top of Mount Victoria, the highest peak in this region of PNG. We'll descend to check in at several more strips in the Goilala area, including Fane and Tapini, then head up through rugged terrain and over the range, ending at AYXI Sim.
9 landings in total, 183nm. The highest point we'll pass over is around 12,000 feet. The shortest runway is 802 feet (ONB).
The Bush Divers Invitational: 2022 Anniversary - PNG
Sat 15 October - 1900 UTC (US East server)
Sun 16 October - 0200 UTC (SE Asia server)
Starting at AYPY Jacksons (Port Moresby)
Recommended cruise speed: 120 knots.
To join: just turn up at the starting airport in a suitable aircraft, MSFS multiplayer on, name tags on, and join the Discord "The Bush Divers Invitational" voice channel. You can load the flight plan if you like, or just follow the group.
Join our Discord at: Bush Divers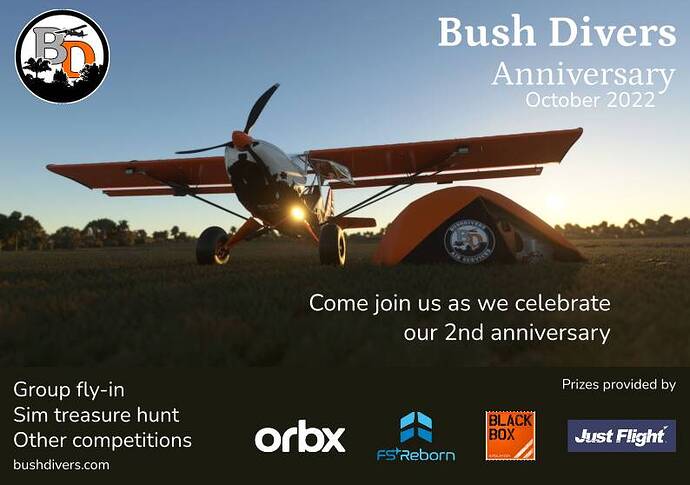 -Prizes in this week Invitational will be for people attending in MSFS and in the Discord voice chat.
-We will be giving away 2 Sting S4 by FSReborn and 2 ORBX product of choice!
-Introduce yourself on the Discord to be added to the draw
-Winners will be announce the next day,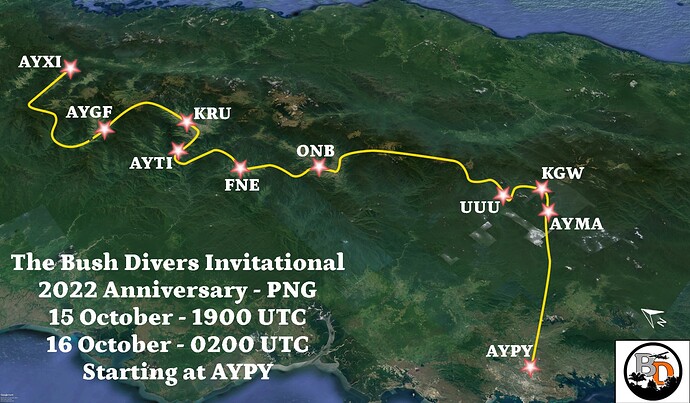 LittleNavMap Flightplan: https://cdn.discordapp.com/attachments/828718703943352331/1029576401529077770/BDI_PNG_Anniversary_Invitational_Oct_2022.lnmpln
https://cdn.discordapp.com/attachments/828718703943352331/1029576401835278387/BDI_PNG_Anniversary_2022.pln