This weekend, we're headed to Brazil! While everyone is watching the World Cup, we should have some quiet airstrips to visit. We'll begin at Marica, on the outskirts of Rio de Janeiro, and soon find ourselves exploring the famous skyline of the city itself. From there, we'll head west along the coast, venturing a little inland, before we return to the coast and cross the Baia de Ilha Grande, finishing up at SDTK Parati.
4 landings in total, 145nm. The highest point we'll pass over is around 3,000 feet. The shortest runway is 1686 feet (SILI).
The Bush Divers Invitational: Brazil - Rio de Janeiro
Sat 26 November - 2000 UTC (NEW TIME) (US East server)
Sun 27 November - 0200 UTC (SE Asia server)
Starting at SDMC Marica
Recommended cruise speed: 120 knots.
To join: just turn up at the starting airport in a suitable aircraft, MSFS multiplayer on, name tags on, and join the Discord "The Bush Divers Invitational" voice channel. You can load the flight plan if you like, or just follow the group.
Join our Discord at: Bush Divers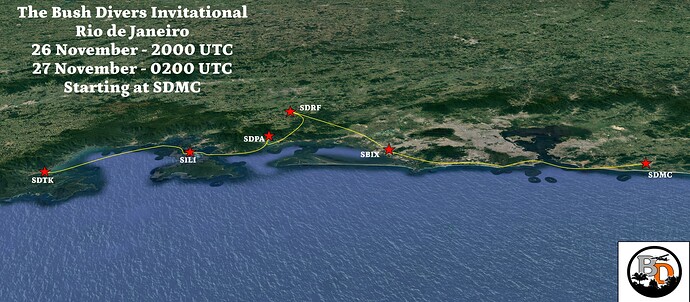 LittleNavMap flightplan: https://cdn.discordapp.com/attachments/828718703943352331/1044910054320648242/BDI_Brazil_Rio_de_Janeiro.lnmpln
MSFS flightplan: SDMC to SDTK