This weekend, we're venturing into the tropical mountains… but not in Papua New Guinea, we're on the other side of the world! A little-known corner of Colombia, the mountains of Sierra Nevada de Santa Marta rise rapidly from the Caribbean Sea to peaks over 18,000 feet. It's the highest coastal range in the tropics, one of the highest coastal ranges in the world, and home to many species found nowhere else. We'll begin on the low plain to the south of the range, traversing its foothills before we take a series of ever-higher climbs up the face of the main range. We'll stop in at SKDU La Diva on the Caribbean coast, take a breath, and make our final big climb all the way to the highest peaks, descending to our finish at SKDK La Ceiba.
4 landings in total, 206nm. The highest point we'll pass over is around 19,000 feet. The shortest runway is 2252 feet.
The Bush Divers Invitational: Colombia - Sierra Nevada de Santa Marta
Sat 8 October - 1900 UTC (US East server)
Sun 9 October - 0200 UTC (SE Asia server)
Starting at SK76 El Copey
Recommended cruise speed: 120 knots.
To join: just turn up at the starting airport in a suitable aircraft, multiplayer on, name tags on, and join the Discord "The Bush Divers Invitational" voice channel. You can load the flight plan if you like, or just follow the group.
join our Discord at: Bush Divers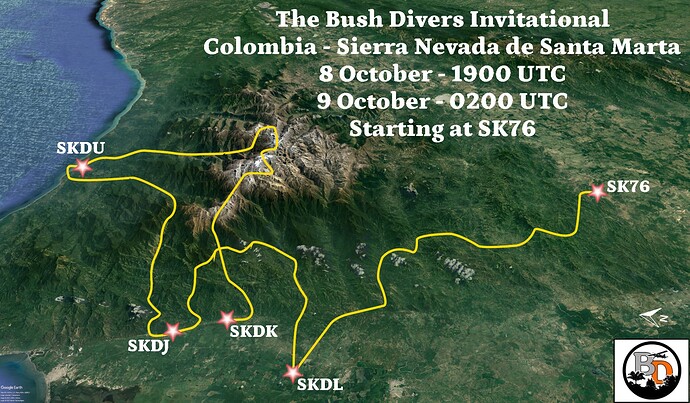 MSFS Flightplan: SK76 to SKDK
LittleNavMap Flightplan: https://cdn.discordapp.com/attachments/828718703943352331/1026412409910472704/BDI_Colombia_Sierra_Nevada_de_Santa_Marta.lnmpln