This weekend, we're going to Korea. We'll start out in the North, at ZKWB on a small island near the port of Wonsan. We'll then make our way south, crossing the DMZ low in the valley down river of the Imnam Dam. From this point we'll begin a river run with an excessive amount of bridges. Final stop will be RK0P, just east of Seoul, in the vicinity of several large engagements of the Korean war including the Battle of Chipyong-ni and the Battle of Twin Tunnels.
5 landings in total (some impromptu stops available), 174nm. The highest point we'll pass over is around 3,500 feet.
The Bush Divers Invitational: Korea
Sat 4 February - 2000 UTC (US East server)
Sun 5 February- 0200 UTC (SE Asia server)
Starting at ZKWB Ryo-Do
Recommended cruise speed: 120 knots.
To join: just turn up at the starting airport in a suitable aircraft, MSFS multiplayer on, name tags on, and join the Discord "The Bush Divers Invitational" voice channel. You can load the flight plan if you like, or just follow the group.
Join our Discord at: Bush Divers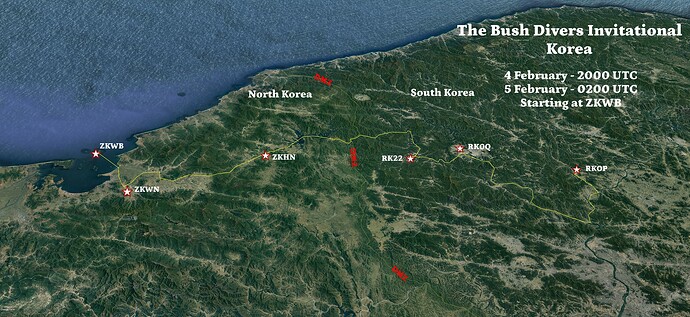 MSFS flightplan: ZKWB to RK0P
19.30 KB
LittleNavMap flightplan: https://cdn.discordapp.com/attachments/828718703943352331/1071331396104245348/BDI_-_Korea.lnmpln