Recently I posted an analysis of the stuttering problem many people are having. Another major problem some people have happens during flight at random locations, FPS drops so low it looks like a slide show. The reply from Zendesk recommended changing LOD to 80. Is this a good workaround? Fortunately there is one location, 76T, where the FPS craters repeatedly. I flew into 76T twice while capturing frame rates using a tool from NVIDIA. The first flight was at LOD 150, the second at LOD 80. I created two charts and sent them into Zendesk. I am posting them here to provide some insight into one of the major performance problems. NOTE: These measurements did not use the developers FPS counter. No comparison should be made.
The first chart shows frame rates before the FPS drop. The black line shows FPS using LOD 150. The yellow line shows FPS using LOD 80. The good news is that changing the LOD to 80 improves the FPS a little and decreases random stutters. The random stutters at LOD 150 are indicated by the drop in FPS. These stutters are not part of the major stuttering problem. The FPS at LOD 80 is smoother than at LOD 150.

The second chart shows the FPS when the FPS drops to about 2 FPS like a slide show. The FPS is significantly lower than the FPS in the first chart. Again, two FPS captures were taken, one at LOD 150 and the other at LOD 80. There is a slight difference between the two. However, it is very clear that LOD 80 does not temporarily "fix" this problem.
When I first saw this chart, the sawtooth up and down of the FPS looked strange. Looking at the raw data I found a repeating cyclical pattern of the amount of time between frames coming into the GPU. The cycle showed that for every two frames, one would have a very long delay time and the other would have a shorter delay time. Up and down over and over.
The AVERAGE frame counts during these captures were about 2.2 FPS. This is where "average" is misleading because it doesn't show the repeating up and down of the frames. The up and down frames show that something in the "main thread" is broken, feeding frames to the GPU as the chart shows. There is no information about exactly what is broken. Whatever it is, changing the LOD doesn't "fix" it.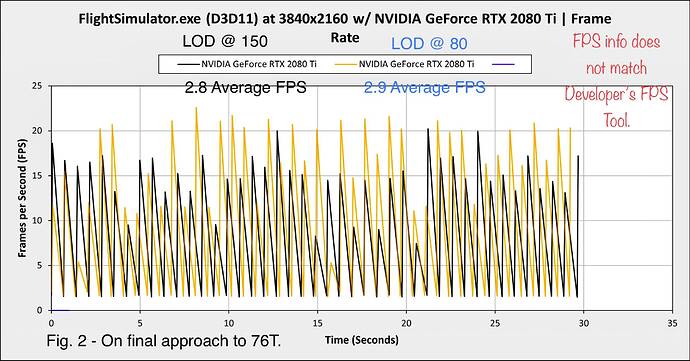 Thank you to everyone who posted the problem at 76T and other locations. Repeatability is key! The information presented here would not be possible if this problem couldn't be recreated.