okkk, got it…
my search for what is a community mod didn't gave any understandable result for me

but… after reading again carefully your answer, i finally got it…
and copied all files to my community folder which gives the right result.
copilot is there now, thanks
but… gpu 100%… so need to work again on optimisation… never ending job with this MSFS …
What an awesome mod. Thanks so much for doing it. I love the idea of having passengers too if thats doable.
Its much more immersive having legs and a body but its a shame the head of the pilot avatar gets in the way if you look around too much. I wonder if someone with Blender skills could knock a headless pilot avatar to use and some passenger avatars too.
Its nice having some company in the cockpit anyway. Its a bit of a lonely experience flying otherwise.
but even with the pilot, if u move a bit forward, then u don't see the glasses or head of the pilot
and u can take a nap quietly, copilot is managing !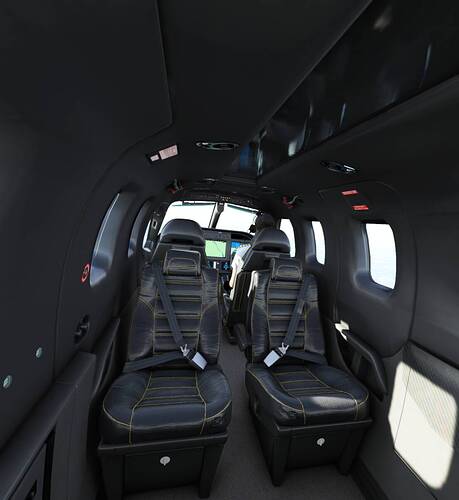 Created mod pack for all standard edition aircraft. Except A320neo. Copilot added for FBW A32NX Stable release.
Thks but any differences with the ones published above ?
Passengers maybe ?
You have only two pilots. You cant duplicate if i correct understand @CptLucky8
Wow. Congrats guys, much appreciated. Tested with the mod on Nexus with the King air this morning and it works!
May I ask if a mod for the 78X would be possible ? Would be great to have a friend on the long Atlantic crossover.
Only with decoded files. I dont know it's legal or not
There is only the copilot in the first ones, I think @CptLucky8 was talking about passengers may be
You can only have 1 instance of PILOT_0 and 1 instance of PILOT_1 (it is hard coded in Flight Simulator.exe)
Yeah unfortunately all the premium aircraft can't be modified like this as they are protected, which is a bit of a shame!
@CptLucky8 Oh that's a shame, pretty much removes the possibility of adding passengers this way. Not saying it can't be done but will probably require a fair bit more effort than doing the two pilots!
Thanks for the answers guys. Hope Asobo will officialy offer the option since, as someone here said, the coding is pretty simple.
I've been wanting something like this, but I'm not going to tackle it right now, so I'm just replying to "subscribe", so to speak. My initial reaction is "Wow, I've been wanting that!"
I'll be back!
A little off topic but does anyone know how to remove the sunglasses from the pilots?
good stuff
is it possible to have this on the aerolite103?
the Jaberu support copilot already officially
@mixMugz Can your mod be removed/rolled back in case of issue?
Not understand what you mean. You can remove mod from community