Yes , if pc user there is an add on that you can use called no toolbar handler from the website flight sim.to
But if your Xbox customer I don't know , sorry
Wunderbar! Works perfectly - thank you!!
Get the No Handlebar mod posted by GhostlyFrend and Speedbrake22.
For the blue highlighted controls and switches, turn off the tooltips options in Accessibility settings.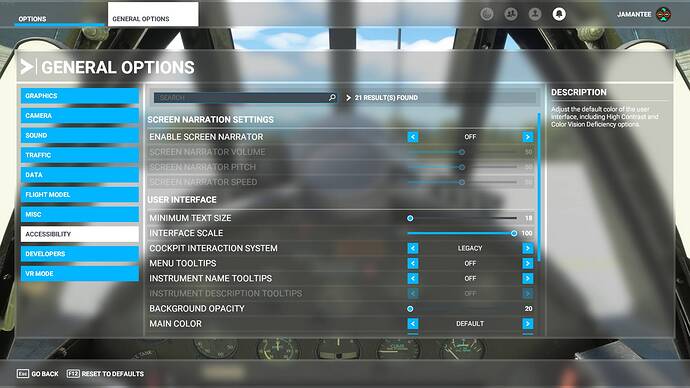 Do you have any add-ons in your Community folder? If yes, please remove and retest before posting.
Community folder is empty, no mods from the marketplace apart from world updates.
Are you using Developer Mode or made changes in it?
No
Brief description of the issue:
When starting any flight from the world map, the top handle bar (the one with the small arrow pointing down) remains visible. This bar used to auto hide after 5 seconds approximately. The only to hide it is to click on another software/desktop to remove the focus from the sim.
This is a small issue that can ruin screenshots - see below
I have unplugged my mouse and tried different strategies to make it wasn't a mouse twitching or moving constantly.
Provide Screenshot(s)/video(s) of the issue encountered:
Screenshots






Detail steps to reproduce the issue encountered:
Simply go to the world map, pick any airport and plane.
The first set of screenshot is the floaters xcub in the Lofoten Islands discovery flight
The third screenshot is the Bonanza flying from CYBY to LFVP - live weather
Last 2 screenshots is from CYFD in the Cessna 172
PC specs for those who want to assist (if not entered in your profile)
Not applicable.
Build Version # when you first started experiencing this issue:
1.18.13.0
Are you on the Steam or Microsoft Store version?
Microsoft Store version
Did you submit this to Zendesk? If so, what is your ticket #?
Request #112587
Thanks for the indication.
Pressing any arrow key will hide the handle bar, until you click somewhere in the cockpit/sim again or move the mouse.
I'd consider it a workaround, as it needs to be pressed after every interaction or mouse movement in the sim.
Thanks for figuring this one out, I wouldn't have thought of it!
Can confirm. Thanks @FlyingCookie650 for reporting. This is going to annoy a lot of people
Please make this optional. Allow people to fully enable or disable it.
Okay so I just tried that and it works! Thanks a lot!
Still we shouldn't be needing a mod just for such simple, basic user experience stuff. Looking at the files it seems so simple and should take half an hour for the core sim devs to add some options to enable/disable it without requiring users to download a mod.
I used the same mod, and I think I will keep it, even if the problem is solved.
But this is another example that testing is still not taken seriously at Asobo. It's such an obvious bug, noticable in the first minute of flying! Do the devs ever use the sim themselves???
(sorry for the rant… for the biggest part they have done a really amazing job, but the quality issues are just too many. It's a shame all the great things they have achieved are outweighed by the countless bugs and issues users are experiencing)
I agree it shouldn't need an addon or mod to reset it back to how it used to be. Is it a bug or a change on purpose?
First rule of software development should always be: If it ain't broke, don't fix it.
At the top centre of the screen when flying you get a small white horizontal line with a little triangle which opens up when you move the mouse to it, as expected. Before the update the small line disappeared a few seconds after the mouse was moved away from it. However since the update the line remains visible all the time. How do I get it to disappear until my mouse is move to the correct position??
Hi,
I think i've seen it elsewhere that if you press your down arrow key on keyboard the dropdown tab disappears.
Apologies, just tried it tonight and Tab disappears it
No mention of this being fixed in the upcoming hotfix.
Glad I'm not going crazy. Definitely hoping this gets addressed soon because seeing that thing all the time is kinda like having windowed mode on. Just takes away from the immersion a little bit.
How do I report the arrow thing not disappearing?
That's what I was advised if you have vr, i haven't and it doesn't work for me. You have vr?