Huge uproar over at avsim. Looks like Asobo actually did not fix it all.
Isn't it coming in the Sim Update?
It was reported as fixed in the patch notes - but it wouldn't be the first time Asobo failed to actually include a fix that was listed in the notes.
It was also talked about during the Q&A as being fixed. No wonder a lot of us have lost their trust in these developers as they have time and time again told us something is either fixed or is some way and the reality is completely opposite.
Well, if you count, 10-15 people making a terrible fuss about something that is apparent to none but they themselves then yes, it is indeed a revolution. I personally cannot see that what they are all ranting about.
You aren't concerned about the implications for management and release practices if Asobo either don't know what is included in a release or that changes are getting lost without anyone noticing ?
What I am saying, my good fellow, is that I do not see what on earth they are banging on about (ouch) with such fervour.
Well now you know what I'm concerned about.
As a professional software dev that appears pretty damning evidence that something is badly wrong with Asobos practices
I really don't, with many apologies.
Still this horrid drawing arc of trees appearing in front. Not fixed.
Before the patch (1.14.6.0):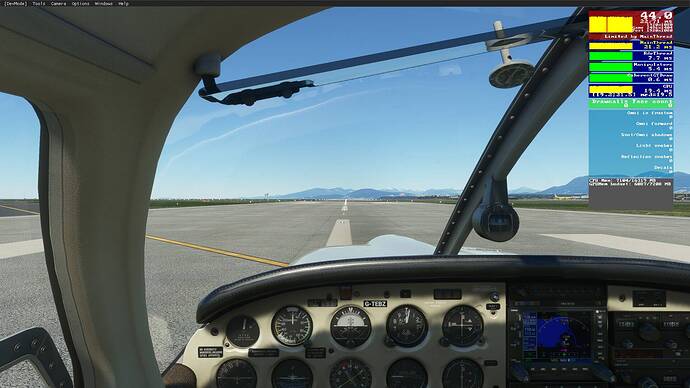 After the patch (1.15.7.0):

Same settings… Check on the right, you can see that the tree draw distance has changed.
Not sure what might be the difference but I see far more trees further into the distance.
It's a lot better here
For the first time I think the Trees and LOD are much more correct
Maybe Ultra is not the right setting for your configuration.
Why would it look better with a lower setting? my computer is powerful enough to run the game in Ultra, I9 10900k RTX 2080Ti 32gb.
Still seeing poor tree coverage here with any of -
the default 1.15.7 sim - actually don't think they've improved this at all as claimed.

Bijan V1.5 mod

Trees_Distance_Draw_Fix(100-150)-SmallerTrees
I hope somebody knows how to fix this. It's mind boggling how these amazing Asobo devs can't get to grips with this, yet at least 2 modder sorted it out in short order, until Asobo negated their efforts more recently. AARRGGHH!!!
For those who are not aware, this was the default tree coverage in the sim with no mods in the early days. Look at the hills in the distance. Full cover. You were totally unaware of any tree limitation - they were just always there wherever you looked. This is all I want back.
I agree, it is completely unacceptable, the worst thing is that they are sitting on Q&A and lying that they had fixed the problem.
Those were the days … now it is optimization for X-Box that is prioritized.