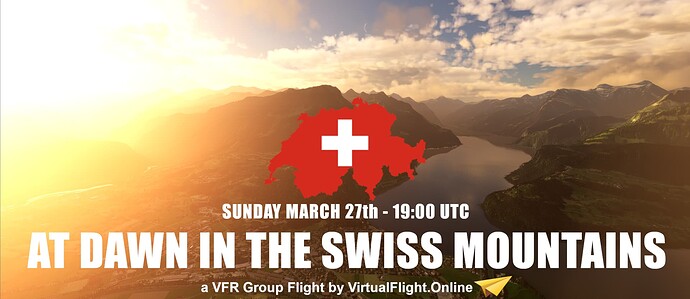 GENERAL FLIGHT INFO
What: An epic VFR flight in Switzerland, discovering beautiful lakes and cities surrounded by the great Alps mountains
We'll be visiting some of the most famous Swiss lakes and cities, including Zurich, Luzern, Locarno and Lugano. We'll also fly along some high-altitude alpin glaciers and valleys.
When: Mar. 27th, 2022 - 1900UTC / 2000 BST (UK) / 2100 CEST (France, Germany, Italy, Spain…)
MSFS Server: SOUTH EAST ASIA
FLIGHT CONDITIONS:
MULTIPLAYER: ALL PLAYERS
AIR TRAFFIC: OFF
GAME TIME: 07:00 AM local time / 05:00 UTC
WEATHER: Few Clouds
Suggested Aircraft:
Any powerful GA capable of 130 kts cruise speed, and 12000ft altitude.
Flight Duration: Around 2h.
Voice Communications:
Voice communication will be provided via the VirtualFlight.Online Discord Server:
> Make sure you activate the Push-to-Talk option in Discord
Flight Plan:
VFR Swiss Mountains - LSMD to LILB.pln (8.1 KB)
LSMD Dübendorf
LSZN Hausen Am Albis
LSME Emmen
LSPG Kagiswil
LSMM Meiringen
LSPU Munster (Mid-Flight Pause)
LSPM Ambri
LSML Lodrino
LSZL Locarno
LSZA Lugano
LILB Alzate Brianza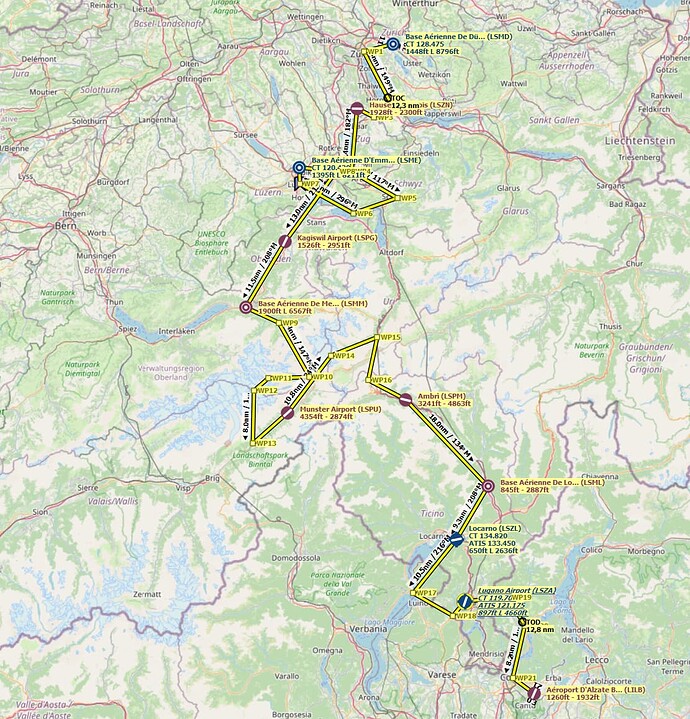 IMPORTANT LINKS FOR THIS FLIGHT:
FREEWARE RECOMMENDED FOR THIS FLIGHT:
"Project Lifts" to add cable cars, gondolas, chairlifts (Freeware)
Our Virtual Flight Online Transmitter App to share your position in LittleNavMap (Freeware)