Hi All,
Just a quick brag post, with the hope that somebody with similar hardware will get similar results as I am enjoying. VR feels smooth and visuals feel super realistic.
About my PC:
8700k overclocked to 4.8ghz
2080ti overclocked to +100 on the core and +700 on the memory
64Gb 3200 RAM using XMP profile
Windows 10 Pro build 19042.685
NVIDIA Driver:457.30
HMD: VIVE Pro 90Hz refresh 1440 x 1600 per eye
Steam VR - Linux Beta 1.14
OVR Toolkit with Edge Browser for charts and weather and V-Pilot for traffic and ATC.
Windows 10 Settings
Game Mode Off
Game Bar Off
Hardware Accelerated GPU Scheduling Off
Nvidia Control Panel Settings: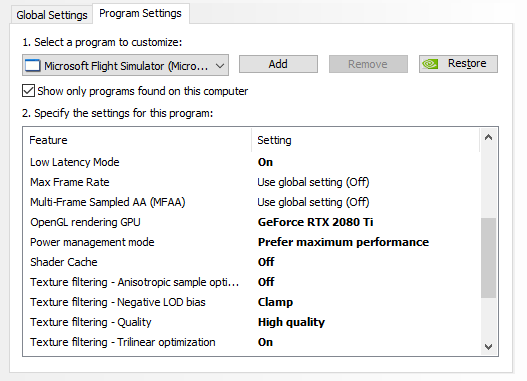 Steam VR settings:
General Tab:

Video Tab (Application Specific Setting for FS2020):

MSFS VR Settings:

All Live Real World and MP traffic is disabled in the data tab.
Boats 10 and Cars 26.
I have the Tree_Draw_Distance_Fix(50-75)-Smaller-Trees from flightsim.to and the workingtitle cj4 mod which is an awesome fun jet to fly, and probably the most feature complete FMC that I have come across in MSFS2020 for mid range IFR flights.
That's it… Getting great visuals, and smooth experience inside the headset, but one more thing that makes the visuals even better is when I wear a pair of ray-ban sunglasses inside the HMD. I have found this makes the colours of the ground textures, buildings and trees more realistic, does a better job of blending the transition from close LOD and the more blurry textures of the far horizon. Makes the sky look amazing, and it really accentuates the light shafts and shadows in the cockpit… If you don't have sun glasses handy, try turning on Night Mode in Steam VR, it makes a difference as well.
Simply amazing. See you in the sky.