Thank you using the Bug section, using templates provided will greatly help the team reproducing the issue and ease the process of fixing it.
Are you using Developer Mode or made changes in it?
No
Brief description of the issue:
After about 30 minutes I got screen turned white and an error message (like an alert in a website) appeared, after click OK the sim closed. AMD reported driver timeout. PMDG737-700
Provide Screenshot(s)/video(s) of the issue encountered: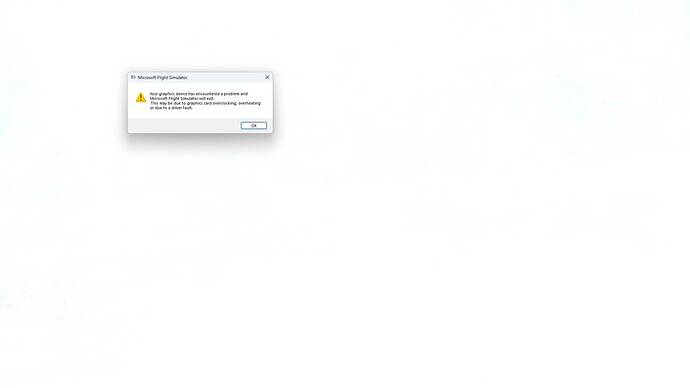 Detailed steps to reproduce the issue encountered:
Last SU10 Beta version and play for a while until it occurs
PC specs and/or peripheral set up if relevant:
AMD Radeon RX 5700 XT, Ryzen 7 5800X, Honeycomb Alpha and Bravo, Logitech Radios.
If on PC, Fault Bucket ID - Instructions here - Please type in just the Fault Bucket ID # rather than a screenshot for privacy reasons:
Fault bucket 2129692035500555790, type 4
Are you using DX12?
No
Are you using DLSS?
No
---
For anyone who wants to contribute on this issue, Click on the button below to use this template:
Do you have the same issue if you follow the OP's steps to reproduce it?
Provide extra information to complete the original description of the issue:
If relevant, provide additional screenshots/video:
If on PC, Fault Bucket ID - Instructions here - Please type in just the Fault Bucket ID # rather than a screenshot for privacy reasons: