Can you still use filters without GeForce Experience installed? It's the only reason I have it installed.
You need geforce experience to use the filters but you don't need to use any of the features that are currently causing problems.
Don't use the game optimisation options or use the overlays and you should be fine.
I never use Geforce Experience.(I don't have it installed) And my flight sim is a stutter show. I reverted the Windows 11 update, and it's still a stutter show. For me, it appears the SU10 update made the sim unplayable. Lucky me!.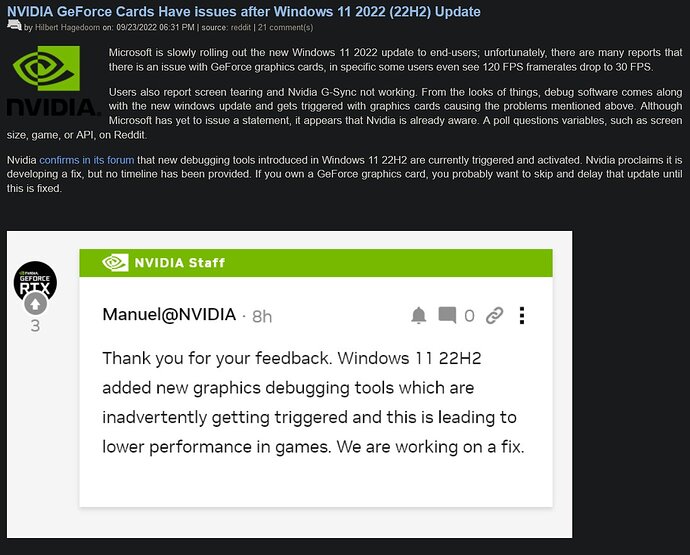 I have unistalled GForce Experience around 6 months ago, I saw an improvement in FPS in games, and by this reason and because in fact I don't need GForce Experience for nothing I never looked back. When I want to know if a new GPU driver I can check on the site (and in fact I receive a newsletter from NVIDIA each time a new driver is available).
Check this other post for a fix:
Are you CPU mainthread limited when you look in dev mode?
FWIW having stalled 22H2 my CPU usage in FS2020 was unusually low and the boost speed was ~400hz lower than normal as per this link…
Having rolled it back things are back as they were and fps is about 10-15% higher.
The game was perfectly playable with 22H2 installed however.
It's strange that some people are seeing this dramatic slowdown and other not. Must be a clue there somewhere. CPU dependent? I've got AMD CPU and nvidia gpu, and have had no issues. Maybe its a reason why nvidia game ready drivers have not been released yet.
Me too!
The game was totally playable and the fps were pretty good. It's just I could see that the clock speed was boosting to an absolute max of 4.8ghz (instead of 5.1ghz) and the utilisation was lower than 5% most of the time.
Now I've rolled it back things gave returned to normal. My issue doesn't really seem to be GPU related at all, it's entirely CPU. This is in DX11 btw.
Same here DX11. Will need to check boost speed. I run FS locked at 30fps so perhaps it's being masked for me. I did see gpu utilisation pick up with SU10, but assumed it was the nice new clouds. Dlss brings gpu utilisation back down by a considerable bit.
Overall, 22H2 is fine for me, but hopefully the issues you are all seeing get ironed out soon with patches and updates. There was already a cumulative update to 22H2 this morning for me.
Nvidia has stated and admitted it's a driver issue of Nvidia drivers (at nvidia.com from community manager Manuel)
They working on a fix.
So it's not a MSFS or Windows issue.
Workaround is to temp uninstall the latest windows update and wait till Nvidia releases the fix, maybe it's even Included in the delayed 570.40 GRD
I was actually thinking about upgrading to Windows 11 before SU10, now I'm glad I didn't! I think I'll wait now until Nvidia have released the fix and new game driver. It's amazing how long we all have to spend fixing things that should be working.
The studio driver has the fix this has been proven, the sim 'allegedly' has the fix its in the release notes. For some its better for some its worse. So try the latest studio driver if its still bad in that, then Id wager money that the GRD isnt going to change one thing.
This last update has done wonders for the traffic on the boards here, most of which has been negative.
So does the Studio Driver fix the Windows 11 update issue?
To be honest, it's best to check for yourself. There are some here who say it does help. Others say it doesn't.
The problem is if I choose to upgrade to Windows 11 I presume it will upgrade with the latest update which is causing the problems. I don't really want the hassle of uninstalling the operating system if I don't have to.
tI updated to Win 11 the day before SU10 came out. It updated me to Win 11 21H2. I've not been offered 22H2 yet. Perhaps it's been taken off the updates.