Short version: Please set night lights of given wind turbine fields in the USA to flash at 30 flashes per minute, probably just switching on/off every second for simplicity.
Long Version with reasoning:
Flying out near KTCC tonight, low level. Observing wind farms SE of the area and elsewhere in the sim.
The obstruction lighting is steady when it should be blinking.
From FAA Advisory Circular AC 70/7460-1L Sec 13.5.1:
"Lighting Standards. Nighttime wind turbine obstruction lighting should consist of FAA L-864 aviation red flashing, strobe, or pulsed obstruction lights. Studies have shown that red lights provide the most conspicuity to pilots"
Further, the quoted FAA L-864 lighting is designated to flash at 30 flashes per minute per AC 150/5345-43H :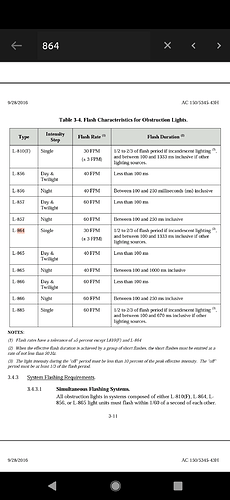 This would greatly increase fidelity of night flying!
Thank you!