Please tag your post with #pc and/or #xbox: PC.
Are you on Steam or Microsoft Store version? Steam
Are you using Developer Mode or made changes in it? Yes. only using the fps display feature.
`Brief description of the issue:
When loading into the game from the world map, I'm experiencing very low frame rates(<10 fps). This is happening just before loading is complete and in game. I highly doubt if my PC specs (given below) are the issue. As per the FPS window, i'm seeing "limited by main thread" d3d11 as the issue. I could see that only 2-3 cores were being fully utilized on the 12700k. The GTX 1080 was also being utilized to around 70%. I have updated to the latest Nvidia 511.23 drivers. Windows 11 pro is also up to date. Vsync is disabled in game as well. The FPS is capped to 50 fps in Nvidia control panel but this did not help. This low fps occurs with any aircraft/airport. The DDR5 RAM speeds, CPU clocks and GPU clocks are all fine.
In game i have disabled multiplayer. I'm only using medium settings at 1440p. Rolling cache is enabled. I have tried a clean install of MSFS 2020 with no improvements. I'm running the steam version of the sim. I'm not using any mods currently.
Basically, have anyone of you encountered this issue? If yes, could you kindly, let me know how this can be resolved? Kindly let me know if you have any suggestions.`
PC specs and/or peripheral set up of relevant: CPU: i7-12700k (hyperthreaded and Intel virtualization disabled) GPU: GTX 1080 RAM: Kingston DDR5 4800 MHz 32GB (16GB x 2) Windows 11 Pro (With latest windows updates) Nvidia Display driver: 511.23 No overclocking of the CPU, GPU or RAM were done.
Build Version # when you first started experiencing this issue: 1.21.18.0
PC Specs Summary:
DX12-Beta: Both CPU and GPU frame times are affected severely 'towards the end of loading and in game as well',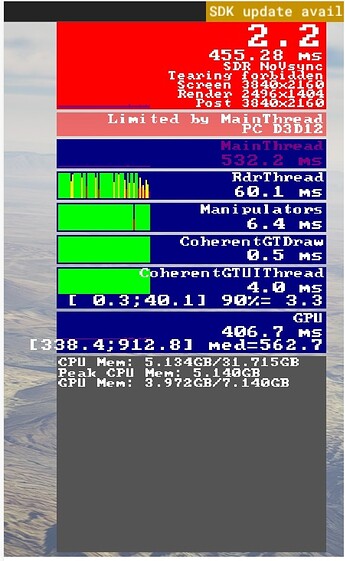 DX11- Mainly getting 'Limited by main thread towards the end of loading and in game as well'

Here is a video of my in-game settings and the issue i have explained above,