First stop, Gainesville Regional, FL (KGNV) after a touch and go at KORL - Terrible weather, but made it safely just before the fog closed in.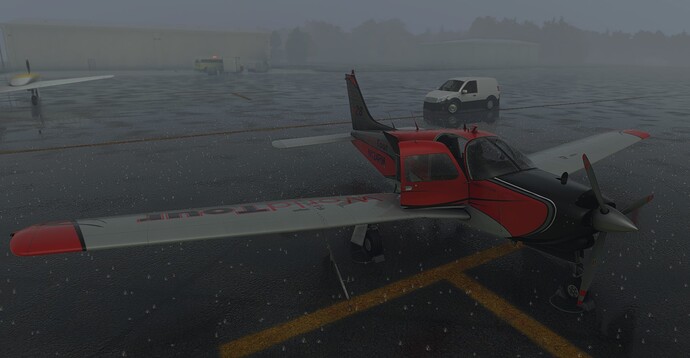 Fueling at Columbia Metropolitan (KCAE) SC. Nice short afternoon flight. Ready to fuel for the next leg.

4th leg into Durham, NC - Hobbs meter shows 6.6 hrs, so far I have flown a total of 6:05 hrs and I have bought 77 gallons of fuel at $364 total cost. No other maintenance fees.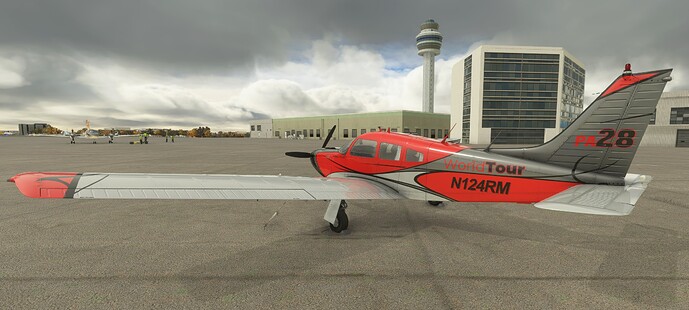 I'm using the same livery, it's beautiful, but I wanted my own reg number on it so I redid it with my own. Sure wish livery makes would post them at least with the option to include or leave out the reg number.
Awesome!
Yeah. I asked the guy on Flightsim.to to paint it for me and I sent him pics of a real world aircraft and the registration is my AC registration. So you will be able to see a plane with that livery and that registration flying IRL somewhere in the US.
Agree is beautiful. Enjoy it!
Great trip so far. I am doing a turbo iii persistent leg flight myself - started in western South Dakota and have moved up to Billings, MT tonight. Loving this plane.
Leg #5: Raleigh-Durham International KRDU - Martin State KMTN.
Great Morning weather on takeoff and incredible 35Knts tailwind which made for a faster flight. Extremely bumpy at 7500'. The initial plan was to do a touch an go in Richmond International KRIC, but the airport was IFR, so I skipped it and flew directly to my destination. Total flight time was less than 2hrs and I used 20 gallons of fuel. Next flight will try the recorder, so I can get better action

Pics.
And this is my flight plan with the weight and balance information
From here on I will start to increase the flight distance and hopefully get to Canada so I can cross the Atlantic before is too cold.