Have you ever dreamed about flying like a bird, outside of a metal can with a windshield? Now you have a chance to do it in Microsoft Flight Simulator - take on your suit and prepare for a mind blowing experience!
You can hover like a helicopter, or escort an airliner like a jet fighter. Participate in competitions or fly above cities in VR mount. Your only enemies - small fuel tank and extremely sensitive controls.
It will be free-to-pay add-on, it means you will be able to try it with most functionality without payment. Full list of premium features and detailed roadmap in the post below.
HOW REAL IS IT?
We are not trying to build a copy of any real aircraft. However, we are trying to make it fly at least somehow realistically for given specifications, in the existing limits of MSFS and our knowledge. Please consider JW1 as an evaluation of simulator capabilities rather than an attempt to create a flight trainer. Any experience you will get with this add-on can't be used in real life, both for flying or aircraft building.
CURRENT DEVELOPMENT STAGE
Public release! Get latest version, try it out and leave feedback - in comments below or in our Discord. It's still not finished - you can expect further improvements of: sounds, display symbology, parachute dynamics, aboard quality, body and parachute animation. Some technical limitations exists that we can't affect anyhow, but they will be solved by MSFS developers with time.
SPECIFICATIONS
Aircraft Type: wing shaped jetpack
Maximum takeoff weight: 350lbs
Engines: x4 jet 100lbs thrust each
Autonomy: 15 minutes
Max range: 90km
Take off: vertical hovering
Landing: parachute
VR: supported
Indication: Legacy HUD (SkyTraveler) or Modern HMD (SkyPirat)
Visual effects: downwash, exhaust smoke, ground contact dust
Startup procedures: simplified (master starter switch)
Liveries: 4
CREDITS
twoseventyinc textures
ANRI flight model, competitions
Got Gravel flight model
Dietmar Loleit GenHUD (SkyTraveler)
1L2P instruments
brm352 instruments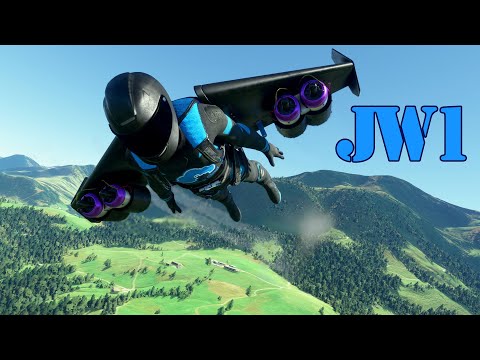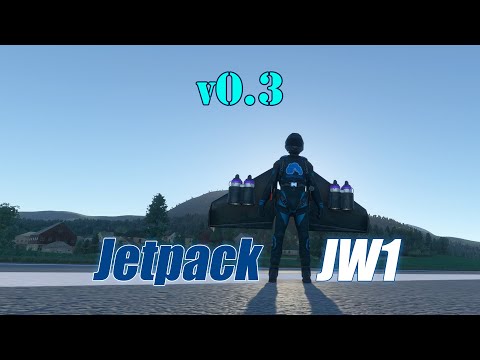 Payware JW1 "SkyPirat"
Freeware JW1 "SkyTraveler"
The Latest news and updates you can find at