Same here too … the last update broke it … hope they are checking the forums for this problem!
Hey guys. This is a very serious issue. Please upvote this and let Asobo see this!!!
Yeah, I have same problem as well all working fine until update. Haven't played since it broke. Come on guys please fix this problem.
Looks like other players are experiencing the same issues with the auto pilot as I am. Was working before the last update. Hope they address and fix the issue asap.
I have the same problem after 1.93 update the autopilot not follow the flight plan and take a south heading
The AI just outright crashes the Cessna Caravan on take off from some places. It will level it off just a bit after takeoff. Then, I think when it raises the flaps everything goes haywire. It is something one can demo from Prescott, AZ, Love Field, Runway 21L, in Cessna Caravan. Try your hand at it! I could swear the AI worked fine when the game first released.
Exactly what i would have said,
because i love the ai control aircraft option that you can sit back and let the copilot fly it. but ever since the new japan update it has gotten worse an worse. So Please Microsoft fix this issue.
I've had the exact same experience. I hope you can get the AI Autopilot to work properly again.
The development update says that the next patch will address navigation issues. Though not specific, I'm hoping this includes the co-pilot not following flight instructions!
New update today and nothing fixed. AI does not work whatsoever. Aircraft bounces a few times on runway and simply flies runway heading until crashing. Will not follow routing at all.
Not good. 2 weeks and this is what we get? It will be a month with out an AI fix. MS can you assign more than one programmer to this project? My 4 year old can squash bugs quicker than your crack team!
New update today and the auto pilot IS STILL broken. Microsoft really needs to fix all the issues with the auto pilot in the next update. This is a joke
I can't believe the AI copilot issue is still there. I thought this should be No.1 priority issue but seems like they just don't care or don't ware of this issue… OK find Asobo. Keep ruining the sim for us. Way to go!
The AP is "work in progress".
Other items are "under investigation"
This is why using zendesk is needed to that they have a way to reproduce things that need fixing for some users.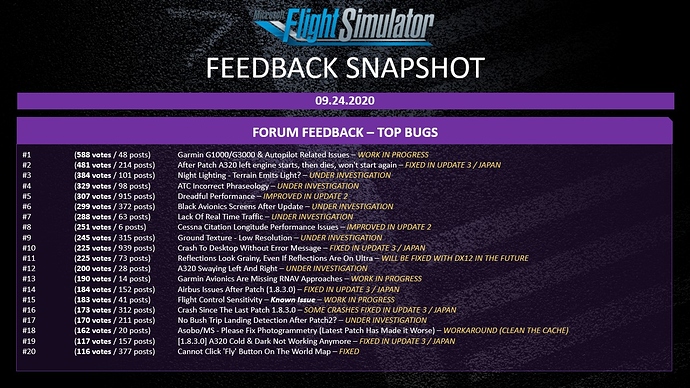 Still no better after the latest patch.
I'm yet to see any acknowledgement from the developer that the AI control issues are even being investigated.
Where is it on their backlog?
Same here, ap not working. Again not playable. Game is a joke.
They seriously need to fix the AP issue and more… Even the AI AP is broken.
The updates are jokes. Ever since 1.8.3 the sim began to break up piece by piece. Please Asobo acknowledge the issue and try to fix this!!!
Yup you guys, this is what I have seen. When the game was first released it may not have been perfect but it worked to some extent. Now the AI is a joke; a complete joke. I fly the Cessna Caravan and tend to do so largely with the AI. What I can attest to is that this worked fine with the TBM upon the initial game release. But after a couple weeks things got worse. And now, like everyone above me mentioned, it is a complete mess. It usually crashes the Caravan. Even if I intercede after it's little 500 foot level off and get it up to cruising altitude myself from there, it won't track the proper heading anymore either. How do features actually get worse over time! It's a joke, no?
Suggest that everyone logs a negative review where they can until it gets fixed. Pretty much a waste ofg my money currently. Perhaps I'll get a refund and spend it on X-Plane add-ons.