I'm on the latest drivers and haven't experienced any crashes yet.
Since you are using the exact same pc config as I am: how is your experience with the quest? Could you share your settings?
struggling to get it perfectly right - tricky beast at times
Just downloaded the latest drive - 21.1.1 and everything seems to be working as well as can be expected. Did have a crash with Quest after about 1 1/2 hours but was switching back and forth between Quest and PC plus turned on little nav map, so there may have been a overheat problem.
It looks, that the temperatur is to high in "automatic" modus.
Change the settings as shown. That cools the GPU from ~75++° C down to ~50°C
Since there, I had no more CTD
greatings from germany
I rolled back to the Oct drivers last weekend. I've flown at least an hour a night since then without any CTDs. RX5700XT.
I too have had to roll back to the October driver for my RX 5700 XT to stop the CTDs I would eventually get on my longer flights, basically fights over an hour.
I just installed the most recently released AMD driver 21.2.2. So far so good. I'm into my 3rd hour of a flight and no CTD. This is with me also running NVM 2.6.7.
Keeping my fingers crossed…
So, have we worked out what is at fault for this yet? AMD drivers or MSFS? A little from column A and a little from column B?
Have you contacted AMD for support? Drivers are not supposed to "stop responding". It could be hardware or a defect in the driver. Drivers that stop responding and recover may cause video stuttering or long pauses. Drivers that stop responding and do not recover indicates to Windows the the driver has failed and then it stops running MSFS (CTD) Presumably MSFS needs that driver to run correctly all the time.
I have improved the CTDs by changing the fan profile for Flight Simulator in the RadeonSoftware.exe program. Since that time even in VR I can play for more than 2 hours. The fan is noisier, but at least it doesn't crash anymore
I haven't had any crashes since updating my drivers to 21.2.1 (Jan 27). Before that the sim would crash about an hour or so into a flight.
I have a 6900XT (on default settings) and randomly will get a "driver timeout" crash, even on 21.2.1 (latest).
I don't know if this can help, but I have increased my Radeon Power Limit to 50% and Fan Speed to 75%, my power supply is a 750w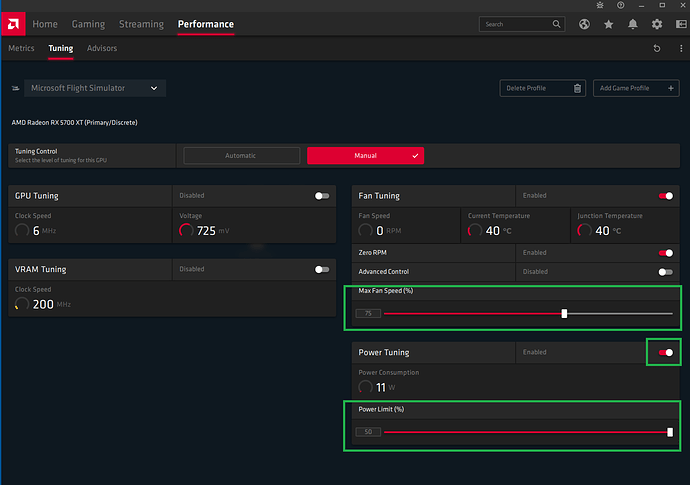 I have been able to fly 2 hours without CTD yesterday with my HP Reverb G2
With the 21.2.3 driver, it greatly reduced my CTD.
Meanwhile, since, I noticed this new error :
Faulting application name: Radeonsoftware.exe, version: 10.1.2.1829, time stamp: 0x602d3b98
Faulting module name: ntdll.dll, version: 10.0.19041.804, time stamp: 0x4544b4a1
Exception code: 0xc0000374
This is a heap corruption. I guess AMD received the crash reports and will address the issue in the next official release.
With the last driver 21.2.3 and the Power limit % at 50 and fan speed to 75%. I can set FreeSync and have a good FPS without CTD. My card is Radeon 5700 XT with a 750w power supply.
Yesterday, for the first time, I have been able to fly for 2 hours in VR without any problems.
Does limiting the power reduce your FPS? By how much?
I reinstalled 20.11.2, with fairly radical GPU tweaks, and thus far no CTD's like I had with the latest driver 21.2.3.
No, and in addition you can activate FreeSync in the settings of the Adrenaline driver. FreeSync gives a major boost in FPS especially in VR mode with the HP Reverb G2.
Any fps boost with Free Sync outside of VR?