Flat screen static images look great. You can see that the models are very high quality.
Hi
all excellent now, went to Orbx Central verified the installs again, fired the sim up went to Gibralter and wow over 25 ships of all kinds tankers, cargo, sail boats catamarrans, absolutely fantastic, thank you. One question do you have any documentation showing the types of vessels and the shipping routes within the sim. this and Bijan seasons mod are the 2 best addons purchased for MS2020, absolutely amazing.
cheers
Alex
Thanks @Kjaye767 - We are working on the wakes (but can't say much more at the moment). The effects part of the SDK is brand new and the documentation isn't there yet for water based effects so many of us developers are still learning. That said, even when we get them to where we'd like them to be they may still shimmer in VR. VR does seem to throttle the visuals a bit even with things at maximum. We're working with the moving target of a new sim engine too but we try our best
- We're also using the G2, great headset
Hi @Axelc1962 - That's great to hear
!
The user guide should have been updated in OrbxCentral to show snapshots of a fraction of routes across the globe (there are actually too many to get into Google Earth all in one go). Fear not though, the sim doesn't bring them all into the sim, it just loads in the boats that are in range of your starting point.
In terms of the boats, there's obviously a mix between Global Shipping and Enhanced AI. Global Shipping doesn't include the yachts and catamarans that Enhanced AI does for example.
This is encouraging, look forward to trying this. Massive fan of Bijan here too.
@SeafrontSims thanks for your rapid responses. I'm report back when I've been able to retry.
Lovely pics and a lovely aircraft too!
Thanks @Fedcup for taking the time to write this and reiterate what Global Shipping is really all about. We hope you're enjoying the latest updates. Much more to come in future!
Just purchased both packages and did a few runs in VR around Liverpool / Wirral area UK and then Gibraltar and it was fantastic, lots of traffic and accurately placed models. Didn't notice any negative impact on performance. The wakes are a nice touch also and add to the realism especially in VR. I was a bit hesitant to grab this at fist but glad I did. Looking forward to how this develops. Great addon.
Hi @Kjaye767 As promised I've taken a look at the cargo and utility traffic for your flight between Perranporth and Lundy and it is indeed on the low side (see LNM shot below). However, the real world traffic (also below) is also pretty sparse so I think it might just be the area.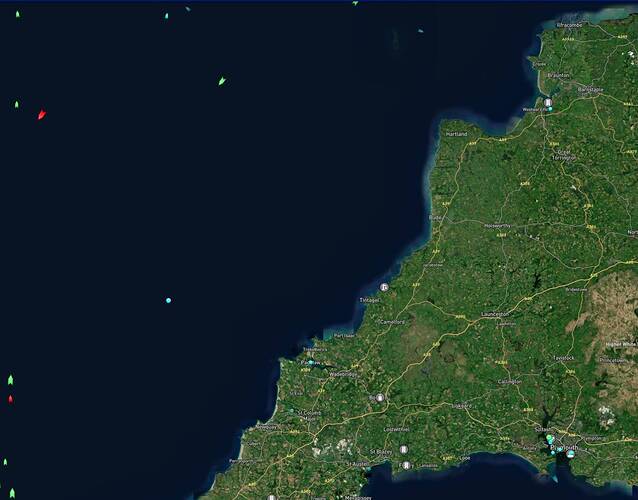 - marinetraffic
You should still be seeing a lot passing through Gibraltar though so please do go ahead and continue testing.
Gibraltar for context.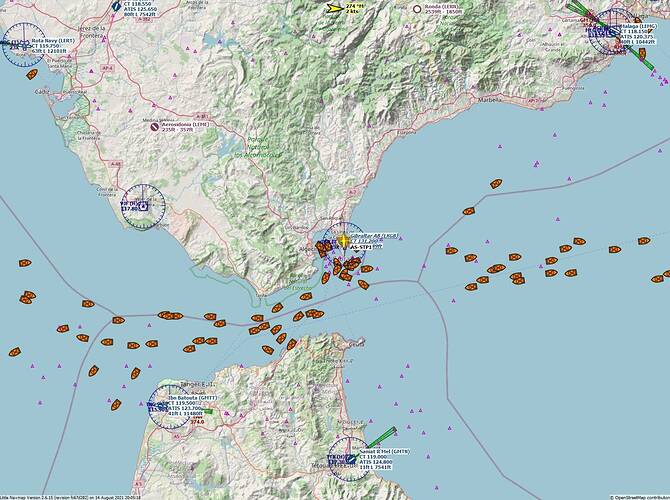 Thanks for investigating. It kind of makes sense seeing as Perranporth and Lundy are on the North Cornish/Devon coast and seeing as the rest of the world is to the south there's probably not a lot of trade going on up there!
I do appreciate the effort you are putting in to improving the mod and trying to actively improve user experience. I'll load up Gibralter in a minute and see how its looking. I'll also download LNM don't have that yet.
No problem @Kjaye767! You'll need to select the little boat in the top bar in LNM (and of course have the sim running). I normally remove the airspaces to get a clearer view.
Thanks, I haven't tried LNM yet but I did load up Gibralter, and indeed there are a lot of ships. They were all behind the rock rather than in the harbour area, which was virtually empty, but around the other side there were probably 15 or so boats.
i had live weather on althogh with a different time so I had daylight and bizzarely it was clear skys and dry but with lighting and thunder! I think there's a few things messed up with this game at the moment. Apparently realy weather over there is clear skies and warm. No thunder.
Aha yes the Thunder issue is a known bug in the sim
They just posted the routes on the product announcements thread… There's a lot!
So tonight I flew from Exeter to Weymouth and Portland, landing at Dorset Flying Club. I saw a single ferry in the Exe Estuary and then nothing at all until I got to Portland, where there were three static Maersk cargo tankers. Flying towards Weymouth there was another ferry, this one static.
My content manager has the global ship mod showing as installed, and I've set all of my traffic to 100 in both the PC and VR options. This was the worst flight so far, Perranporth to Lundy felt very low traffic, but this felt like it wasn't working as there was nothing at all, not even a single yacht on the whole journey.
I forgot to install LNM but I will do tomorrow and try again. As I never fly to port cities, but only around the English coastland I don't feel this shipping mod does anything for me. The only time I've seen the tankers was at Gibralter in a test flight, and some static ones which might have been yours at Portland harbour?
I think I will be better served with the regional packs, the Southeast of England one upcoming sounds great, and Southwest England would be my ideal as 90 percent of my flights around here.
Hi @Kjaye767 I think you're right if you're mostly flying in areas that rarely have cargo shipping traffic. I did a quick test of this route on marine traffic too and I think you saw more cargo traffic than is actually there in real life. The low yacht traffic is a result of low default yachts in the sim in that area. We'll speak to Asobo about increasing it. I can't promise that we will create a UK South West scenery yet but we would like to. If/when it happens we'll be sure to let you know here
Thanks @NFGoose We've been doing some 'patrols' too (albeit up in the Skagerrak Strait, near Denmark) and love spotting the lights on the horizon at night before a quick fly past.
Hi all
just a quick question regarding ship models, which are absolutely fantastic, do you have Ferries and cruise ships included, if not are they going to be added in the future.
Many thanks for a fantastic immersive addon.
Alex
Hey would like to buy but not from orbx (only credit card , not Paypal. Internet and CC ist not very secure), is this Coming to the market place? And when?