Have you seen this?
Sounds promising…
I am not sure a B350 was built that was strictly steam gauge. By 1990 I believe Beechcraft had moved to the EFIS 80 series and PLII. IIRC the only steam gauge was the B300s (I have time in a number of those aircraft.) Maybe a few rare bears are out there, never say never. It would be a truly unique airplane.

I'm in love already

I flew many times on military B200s (slightly shorter version of the 350) in mid 2000s. Not as a pilot, but as a tactical comm systems operator. The cockpit layout was almost exactly similar, with these old Collins attitude indicator and the HSI.
It didn't feature any FMS.
Modern B350s feature Collins glass cockpits, such as ProLine 21 or ProLine Fusion.
But, if these developers deliver on their promise, I would be more than happy to fly the 350 equipped with vintage avionics. Hopefully, engine management is going to be as realistic as possible.
I am familiar with the BE20 and since it started production in 1973 yes it has straight steam. Around 1986 they started building B200s with EFIS 70 series and around 2000 moved on to PL21. Today the B260 comes with Proline Fusion and autothrottles.
You're absolutely correct. Almost all the early King Air 350s (technically B300s
) would be EFIS equipped. But there were a few analog only examples that existed.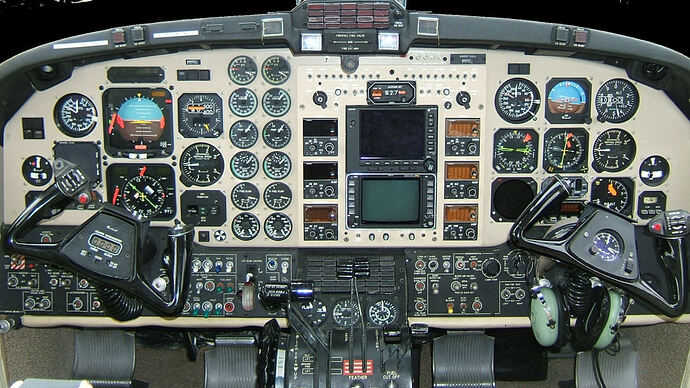 It's definitely close enough for me to replicate flights in the analogue B200s I used to operate.
This is how most default aircraft should have been released since start. There´s a plague of displays everywhere. I love the old school cockpits.
Cheers
I had not seen this so thank you very much @FurnishedBird22 for the heads up!
I signed up for email notification when the Caravan package is ready. I can't wait, instant buy as soon as it's released.
In my opinion, it'll be a whole new airplane and will have that steam gauge charm that makes me love the Just Flight BAe146 so much.
Yes, thank you. I should have said model 300 to be more specific as the B350 was the model B300. Just like there was a model 200, model A200, and model B200.
Sorry, I hope that didn't come across as being a smart ■■■. I'm just super excited to have someone care enough about the older versions of these aircraft. I can't wait.
This is awesome news! I'd love to see steam-gauged Caravan and Beech and I agree about that display plague.
However, what bothers me is that these variations may turn VFR-only since in the US, for example, there are very few historical approach systems left. One has trouble finding a VOR or NDB approach already.
Any ideas where one can get historical approach plates?
You could pretty easily create any VOR's and NDB's on your own for those airports and flight paths you'd like to fly to/along.
Not at all, I was inaccurate and you rightfully called me out on that.
Always loved the steam Caravan. I like the mix of that along with the GTN-750. The Caravan Add ons back in FSX and FS2004 were all steam, will take me back to those days. Sure IRL the G1000 is the way to go. But will say I barely use the Caravan at all, but with this, I will be happy to hop around some islands and do some more low level flying again.
I would prefer the 1990s King Air with the EFIS cockpit with steam engine gauges though. Still hope someone will bring out a B1900D.
Already flying the caravan with steam gauges using Air Manager so no need for this for me. Also have Baron and Bonanza steam panels. Best of both worlds.
And where's realism in that? VORs and NDBs are there, but approach plates are a bit more complicated thing.
You can still find them…
Heck, you can export them from FSX and bring them into MSFS if you want (I did when KASH didn't have procedures), circa 2006 data.
I see no mention in the announcement whether that is also applicable to non Standard edition, e.g. the Beech Baron. Any ideas?
Isn't the default Beech Baron DRM encrypted?
But, in any case, if you want an old school Baron, I think MilViz are going to develop one for the sim.
And, knowing them, it will definitely be high fidelity.