@RegentFalke4131, I have both those but others might not, so much appreciated. Cheers.
@FrankPilot1530: yeah, it dates back to a PNG-discussion on the x-plane.org. In fact Papua is the only reason I keep that sim (and the PC-6 Porter!).
In MSFS its all in all not as wild as in XP-11, especially the slope angles. Created a PDF once of all strips there (see screenshots)
With it I want to encourage MSFS modders to go active!
And Asobo to bring a better DEM of course…
@RegentFalke4131, thanks for that. I think I was part of that XP discussion. Correct me if I am wrong but I think all those airports starting with a W are in Indonesian Papua which is different to the independent country of Papua New Guinea (PNG). So, for example, MAF (Missionary Bush Pilot guy) is in PNG and Susi Air ("Worst Place to be a Pilot" TV series) is in Indonesian Papua. Should be all l one country of course but I better not get political! Anyway, the bush flying is similar on both sides of the border! I might be doing a video on the Indonesian side. Cheers.
@FrankPilot1530: you are right of course: W* is Indonesia.
The terrain is higher and more rugged there, especially the southern flank of the mountain range - so more interesting flying. Lets hope for MSFS improvements/addons.
Tally-ho the Long-Pig!
PAPUA - Bushpilot paradise, but also land of the big MSFS spikes and huge landclass interpolations, silently waiting for an update.
Irian-Jaya: Baliem-Valley - the heart of the highland: fly from official airstrip to airstrip (length down to 900ft !):
PAP_IJ_baliem_1.PLN (5.3 KB)
The valley - now the hard way:
along xtreme & unofficial Landing Strips. Some are on Bing clearly LS, some out in the wild and very steep. - even beyond the PC-6 Porter, just Grravels…
PAP_IJ_baliem_hd.PLN (4.7 KB)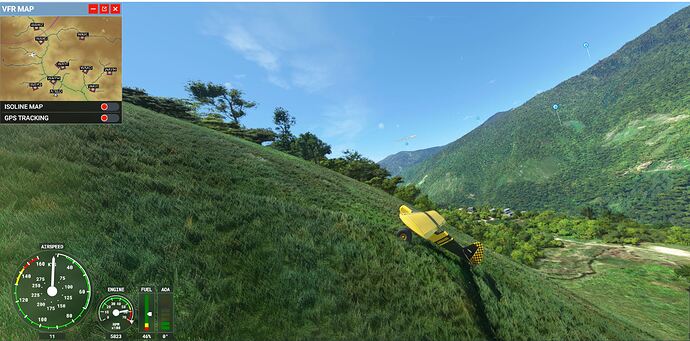 Three flights in the NE region of the Maoke Mountains, Irian-Jaya:
along a bakers dozen vanilla airstrips (shortest 780ft):
PAP_IJ_ne.PLN (8.0 KB)
a further north and lower, again official MSFS strip only (shortest 879ft) - mild but still wild:
PAP_IJ_nne.PLN (6.6 KB)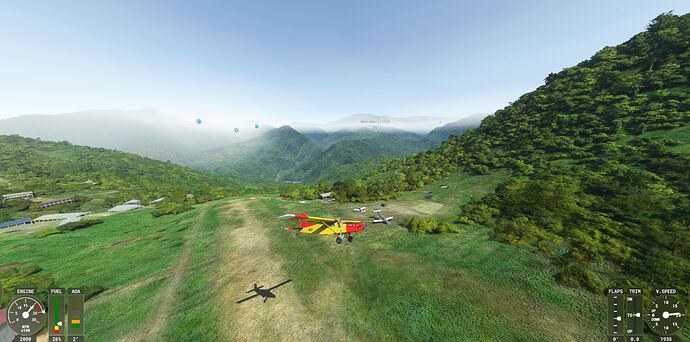 return the hard way: unofficial clearings, rivers beds, ridges - not for the faint of heart:
PAP_IJ_ne_wild.PLN (4.2 KB)
…unfortunately I have seen it too late: there is a great mod for exactly the NE of the Maokes:
25 tough strips (plus a PLN roundtrip for them) - I can affirm that they work under SU6.
Bush strips in Papua » Microsoft Flight Simulator
get into your Porter!
Yeah, knew about this, but it is in Indonesia not Papua New Guinea (PNG), but it is still nice. Cheers.
… we continue to stay in Indonesia for a while:
three Irian-Jaya flights in the NW of the Maokes
first west-to-east on official airstrips, pretty easy (shortest 1032ft)
PAP_IJ_nw.PLN (5.9 KB)
not so the return trip:
several real-life strips that didn't make it into the sim, small & sloped landing patches near remote villages and at gold digger camps up in the mountains, some spots pretty outlandish (DEM going berserk, pic1), others beautiful (pic2).
PAP_IJ_nw_wild.PLN (6.5 KB)

last not least a relax & recovery flight in the lower hills along strips that have been souped up in the .to (look for the map or the red-white flag when going for keyword Papua), there are also some weather themes.
PAP_IJ_nnw.PLN (5.5 KB)
About the giant spikes in the terrain in Papua (and PNG): we're all hoping Asobo do a mesh update, but in the meantime I've created a mod (Papua / New Guinea terrain fixes) which flattens (some of) the worst spikes.
I also have a mod (Papua / New Guinea airstrip maintenance) which aims to fix various issues in default airstrips in PNG - mostly trimming unrealistic vegetation from approaches, but some other fixes too. In future I plan to expand this to include airstrips on the Indonesian side.
…also, if you're interested in bush strip flying in PNG / Papua, check out Bush Divers. It's a Discord community (and virtual airline) focused on bush flying in PNG / Papua.
thanks wantok,
I will go east, over to PNG later, but can already confirm that your terrain fix works.
It would be great if you could do spike action on the Irian-Jaya part as well!.
365/24/7 cloud cover over some parts of Papuas central ridge (east & west) is so bad that even Google Maps can be pretty coarse, so its understandable that there is area-wide landclass interpolation in the sim.
But not so with spikes: DEM relies on Radar/Lidar scans that penetrate clouds - and those pyramids are more than just single pixels.
No worries. I have squashed a number of spikes on the Indonesian side, but I know there are many more to do! One extreme spike (which I have squashed) is higher than Puncak Jaya, the real-world highest peak in New Guinea!
It looks as if the the problem with the source data that has led to these spikes originated from the SRTM data gathered by the Space Shuttle and published by NASA. This is the source of the elevation data for PNG used in MSFS, it seems (and also, as it happens, OpenStreetMap / OpenTopoMap). Hopefully Asobo will update the elevation data from a different source, or someone like Orbx publishes a new mesh.
Now that there is a free-for-all Porter around, Papua should grow in popularity

Still in Irian Jaya - the SE part of the central mountains:
PAP_IJ_se.PLN (5.0 KB)
PAP_IJ_se_wd.PLN (3.9 KB)
as usual: first hop is from airstrip to airstrip, return flight with landings in the wild.


But beware: SU7 has mutated the place: some strips are still in the VFR map but vanished ("retaken by the jungle…") completely or partially (other regions of Papua as well? something for Zen?).
And some landing spots from the 2nd PLN (done with SU6) are now overgrown.