Can't finish leg 12 on the Rijeka to Santorini bush trip. The destination airport doesn't even exist in the simulator!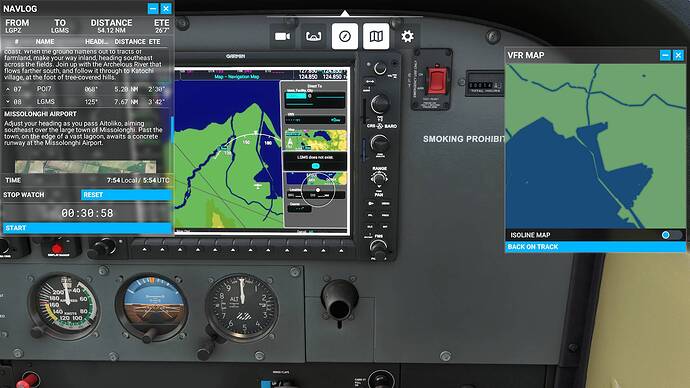 Having the exact same issue
Same here. Any informations about patch for fix this?
I'm also having the same issue. Quite frustrating that I've gotten this far and it seems impossible to progress any further and to complete the Bush trip. I believe the destination airport has disappeared in one of the recent updates as I know people have been able to complete this trip in the past.
Has anyone discovered a workaround while we wait for a patch?
Same. I thought something was wrong when I noticed the runway isn't concrete. This is extremely frustrating. I start & stop the engine. I move on & off the runway, hoping to find a sweet spot to end the leg. So irritating, I want to finish this bush trip.
Same here!
I thought it was because it's put me in night time so cannot see the runway but even half light shows no 'proper' runway and leg is not recognised.
This is about Xbox, my dear Kubica fan!
Best regards
I submitted a request on this, and I got an email that says the request went from "open" to "solved" and the email says…
"Thank you for submitting a bug report. Our team will review the information and try to reproduce the issue thanks to the information you provided.
WARNING - You will not receive further updates or an answer to this ticket.
Bugs and issues that have been successfully reproduced will be categorized and prioritized—game-breaking bugs will receive the highest priority, while middle-of-the-road and cosmetic bugs are prioritized based on reproduction and the number of times reported.
Be aware that the status of your ticket on Zendesk does not necessarily reflect the status of the bug in-game. For more information, visit Zendesk Bug Reporting FAQ or the Bugs & Issues forum."
🤷
Same here. The airport seems to be closed, and the runway is overgrown! Some confusion on the airport code too. Reddit posts say airport code should be LGME, but that can't be found on the GPS either.
BTW the instructions are pretty terrible in the latter part of this leg too.
I would suggest that anyone having this problem to submit a request and be very specific, otherwise they may ignore it for a long time.
Thank you! Added the airport back by this mod solved the issue! Now I can continue!
This is still broken! Any idea on how to fix it on the Xbox?
I'm having this exact same issue. Playing on Xbox.
Still waiting on a fix. Still waiting on the runway.
Good news! The fix for the Balkans bush trip is coming with Sim Update 6 on October 19th:
"-Fixed Balkan bushtrip which could not be completed due to missing airport"
You can see all release notes here: Sim Update 6 Flight Now Live - #2 by Jummivana
Landed on LGMS and the leg did not complete. LGMS is not even selectable in the open world. So I guess my Balkans trip ends here for bush trip
This is fixed now as of the update that was released yesterday! You can land or taxi on the runway now and come to a complete stop and it should complete.