Did you download the 10 gigabytes from the content manager?
That only happens when there is 0kts of wind, which is extremely rare. As soon as you have 3kts or more it looks perfect.
Quite frankly I'm not even surprised. VR was, like most of the updates, released half baked. Comments are re-enforced by the fact that the new rending setting didn't even make it into the VR menu
Thanks to all of you providing the hint with the XBox App. With that the update completed in no time compared to the last ones
downloaded everything i can
NIGHT LIGHTING IS BETTER! More realistic, but a new bug with weird reflections in the sky at night.
But at least the scale of night lighting looks better to me…
Still have pop-in, even on ultra pre-cache setting, but not as bad as default SU5. I guess I was just expecting these terrible triangles/photogrammetry to be improved upon in the sim per the patch note (paraphrasing here) "distance increased for photogrammetry cities". Departing JFK, half the city still looks un-rendered/yucky with PG set to ON.
The screenshot is in HDR, apologies - note that the payware NYC skyline shows on left, but Asobo NYC PG on right looks awful, all on ULTRA.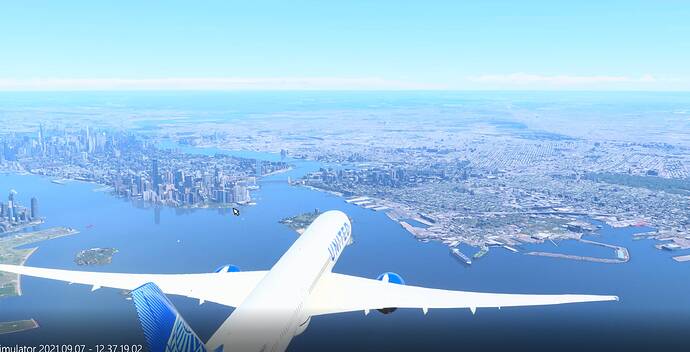 Doesn't matter. Bug fixes first
The bug list just grows and grows but with prettier graphics.
Update: I'm at FL340 cruising altitude I can confirm the altitude issue has been fixed!
every time the preset ''clear sky'' is used there is 0 wind
basically, every bush-trip
1,000,000% agree. However, asobo seems to not agree. Guess we can hopefully get some answers during tomorrow's Q&A.
looks like you have a google mod loaded
The only way I am able to successfully start up the TBM without a CTD is by removing the Navigraph in-game charts through the Navigraph windows app installer.
I was able to re-install Navigraph after a game and system reboot. Now the TBM turns on.
what do you mean by this?
thank you
There will be a stream with Q&A?
Do you have the strange reflection outside the plane ( i have it also)
Community mod for the city inside?!?
Thanks …