Hi Seedy, See PrimeDestro210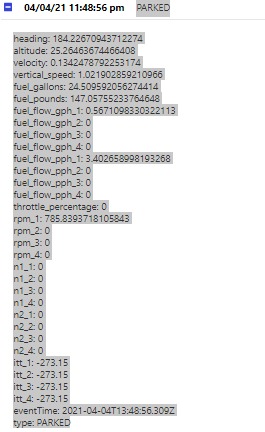 Time below and event capture
04.04.21
11:48pm
Ciao Prime
Just for S and G's I calculated the time lost due to my pilot error and napping.
Time at save point YREN eventTime: 2021-04-04T10:20:27.077Z
type: PARKED
10h20m
Waited 10 mins prior to crash leg so +10m
Timing of successful leg
eventTime: 2021-04-04T13:56:18.163Z
type: TAKEOFF
eventTime: 2021-04-04T18:11:11.323Z
type: PARKED
4h15m
Total time of successful legs:
10h20m + 10m + 4h15m = 14h45m
Lost time:
18h11m - 14h45m = 3h26m lost due to my nap lol
I did this to see where my general flight strategy placed me versus BlueYonder's go deep into the Bight tactic. Good on you man. You got more than half an hour on my path without crash.
A few reminders:
The deadline to submit your result is today at 2359Z. If you've finished the race and haven't posted your time in this thread yet or if you still have part of the race left to complete, make sure you do so before the deadline!
As mentioned above, I'm hosting a race debrief and closing ceremonies stream tonight starting at 8pm ET / 5pm PT / 0000Z on my Twitch channel. There will be prizes! In addition to the grand prize for the race winner (Orbx Cityscape Sydney scenery pack for MSFS graciously donated by Microsoft) there will also be a few more bonus prizes compliments of the event organizers, me and FactualGull! @HowardElvis, @IngoPlane, and @BlueYonder9259 will be joining the stream to discuss our experiences with this race and talk about lessons learned for the next event in the series, the Paris-Dakar Rally on July 3.
Hello Seedy
My arrival time on this race was eventtime: 2021-04-04T17:35:04.268Z (parked in Syd)
Stage Perth-Broken Hill 2. Stage Broken Hill-Sydney
3 Tankstopps at Ballodonia Hotel, Penong, Broken Hill
Thank you and FactualGull for the big event. Cant wait until July
Hi everyone,
Here's the official time-tracking spreadsheet I'm using. I've been updating it as everyone submits their time to this thread, but please check it and confirm your time is logged in case I accidentally missed you.
Heyyy, I wasn't the fastest but at least I was the fastest person NOT in an SR-22
Wow 55 Pilots made it to Sydney
Cool - Congrats to everyone