More vram would possibly help too.Don't you think something like a 3090 would ease load of the ram?
Airport tend to be vram heavy.
For me I don't think it has to do with the RAM. Right before every VCRUNTIME140.DLL error that causes my CTD, my event viewer is showing a "Disk 4 has a suprise removal" error. Every CTD has that series of events. The Disk 4 it's mentioning is an "Xvd" drive that I guess the XBOX gaming service creates. I've tried repairing the game bar, uninstalling and reinstalling the Xbox Companion App, and anything else I can think of but to no avail. It's really upsetting that I can't figure this game out. The part that sucks is it was actually working pretty good before this last update. Maybe after their next update it will work again, I can only hope. It's so frustrating though, every other game/application I have runs fine.
we are here within the thread ( a hint ) for users with <32GIG RAM
In case we speak about a:
then of course there are other reasons more Probaly.
Most issues with this is memory overcloacking with XMP mode, other hardware issues and in rare cases software conflict ( example MSI Afterburner ).
But in this case we come out of topic here an should switch to existing topics for VCRUNTIME140.DLL error's.
PS.: related to the XvD drives I found following
Thanks Micha, it can be moved that's fine. I'm out of options unfortunately, almost every piece of hardware is new and like I mentioned no other issues with any other applications. I just don't believe it's anything's broke hardware wise, I'm sure it's possible something with MSFS is conflicting with my Hardware, but not sure why everything works just fine. I've tried reinstalling everything, multiple times, clean windows installs on multiple brand new SSD drivers, anything I can think of or has been suggested. Was working better until last update but since then it's unplayable for me. Guess it just wasn't meant to be unfortunately. I'll continue to try every couple months in case whatever is causing the issue gets resolved. It is what it is, I've reinstalled FSX and X-Plane 11 and will have to use them to get my flying fix. Thanks for trying to help.
yes,… this was often the case for these XMP part. Have you already tried a testcase in which you not use the memory XMP mode ?
Here is a huge thread about the VCR… ( also more better in issues cat
)
It is bit older so it contains also out older tricks like "Text2Speach=Windows Offline" ( I never switched back to Azure ).
If CTD realy starts since 1.13… , then is of course also a chance for a issue in-game. But my experiance is still: I have no CTDs.
And beside of this: if you own <32GIG RAM, don't forget to increase the pagefile. The game eats memory and in some worst-scenarios a lot… I have situations where my commited overall system load is about 50GIG RAM, and around 40GIG commited from MSFS.
Example:

I've looked into the XMP issue, my A320M-HDV R4 motherboard only offers "Auto" or "XMP Profile 1" for my Crucial Ballistix memory. I don't see a way to shut it off. If I use Auto the crashes aren't to desktop, they lock my computer up completely to the point that I have to hold the power button down to restart. When I use the XMP Profile 1 I get the VCRUNTIME140.DLL error. The XMP profile I use is not overclocking my RAM, I have timing, latency and voltage all set to factory spec. I've run tests to check for memory leaks or other issues, none found. Obviously there is something within the MSFS code that is conflicting with my machine, but I don't take that to mean I have bad hardware. I just think there's something wrong in the coding of the application. If I were getting CTD's with more than just FS2020 I would tend to lean towards a hardware issue but that's just not the case. Also, the fact that it was working between the last 2 updates tells me something in the last update changed. Before the last update I did get some crashes but they were few and far between. After the update, I can not play for more than 5-10mins, ever. I've tried at least a couple dozen times with various tweaks trying to figure out what the problem is, nothing seems to help. I just don't believe throwing more money into more RAM is the answer. I've already replaced power supply, SSD Hard Drive, Video Card, RAM, and CPU. The only things I haven't replaced are the Motherboard and case, lol.
thanks reporting back… it was at least a try
nope… as long as the reason for the ctd is not clear, it is not realy usefully.
The game also run with 16GIG RAM, but you have to check/increase the pagefile setting, as mentioned
EDIT: a question: what CPU you have ?
I have the Ryzen 7 3700X. My system specs are below…
Purchased through: MS Store
Edition: Standard Edition
Operating System: Windows 10 Home (Up to date)
CPU: AMD Ryzen 7 3700X
RAM: 16gb
GFX: Radeon RX 5600 XT
HDD or SSD: 500GB NVME M2 SSD (Dedicated to Game, nothing else on it)
Corsair 750W PS
I'm going to be trying one more reinstall of Windows and MSFS, just don't have much faith as I've tried this twice already. I'm going to move my Windows and MSFS over to my 2.5" SSD Drive instead of the M2 drive I'm currently using. See if that makes any difference.
Hi,
I seen lot of reports in net about your mainboard related to a specifiy AMD CPU and the BIOS version in point of thermo issues. But I'am not realy sure about such reports
For me more interessting sounds the AMD GPU… in point of thermo issues and drivers.
Within forum reported some users issues with specific driver version.
Example:
Might be you can check this.
And which size you set now for your pagefile ?
Otherwise… hmmmm…
Thanks for the info Micha. I appreciate you taking the time to try and work this out with me, that's very nice of you. I reinstalled Windows 10 and MSFS last night and so far this morning I've made 2 flights without CTD which hasn't happened since the last patch. I don't why it's working this time, just hope it continues. I really believe my issue had something to do with the Virtual Drive that the XBOX gaming service runs. Every crash was preceded by that "Xvd" virtual Xbox drive disappearing for a moment, then the VCRUNTIME140.dll error. This was the same sequence of events for every crash. Reinstalling windows and MSFS again seems to have sorted it that out for now. (Knock on wood) Of course now I'm afraid to install anything else on my machine now that it's working, lol.
hmmm… yes… we not realy find out why this happens.
I press all my thumbs too that the issue stay furthermore away.
Has anyone tried a RAM disk for their swap file?
If you are limiting it to 4GB, or 8GB, it seems that with 32 or 64GB RAM, it would be faster and less wear on the SSDs (inc. NVMEs)
I realise persitance of RAM Disks can be an issue, but I used AMD Ramdisk and imdisk in the past for persistant drives, they both worked pretty well.
Never use SSD for high frequency data changes, it's not build for that. Use it for all the static simulator data but not temporary data. RAM-Disks are a pretty good idea. MSFS can work with 32 GB pretty good, more is not necesarry.
Hey everyone, I'm still suffering from the CTDs and I think the virtual memory thing may be what I need to do. I'll put up a pic of my settings that I did but I am a bit confused on setting my virtual memory correctly.
From what I've read, you only need ONE paging file and the best formula is INITAL = RAM x 1.5 x 1024 and MAX = RAM x 3 x 1024 to get GB to MB which the system uses.
In my system I have C: drive which is my windows drive
F: (SSD) where MSFS is installed and I am sure my fastest drive.
I have 32 GB of RAM
What I've seen so far is "You can have the custom size on your windows drive;" or "it should be on your fastest drive" or/but "should not be on an SSD drive." MS support says in their instructions to increase the virtual memory (pagefile) on your system "Click to select the drive on which Win 10 is installed (by default C:) then select custom size" yadda yadda.
So you can see my confusion at this point.
So my questions:
Do I only put the custom pagefile on my C: drive?
Do I put the custom pagefile on both my C: and F: drive?
If I put the pagefile on my F: drive, do I leave C: drive set to "system managed?"
I think that covers everything for now. Thanks for any insights to lock this down for me.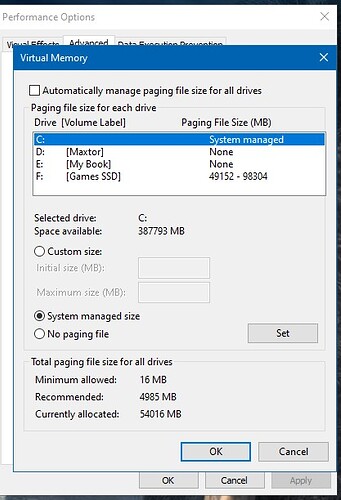 Mine Is the top box: Automatically manage all drives by Windows 10.
Seems to work ok.
For whatever reason Automatically manage all drives by Windows 10 doesn't work correctly and it appears zendesk knows this thus their suggest in the website:
INCREASE THE VIRTUAL MEMORY (PAGEFILE) ON YOUR SYSTEM
In the Windows Seach bar, type Advanced system settings and open the Control Panel.
Make sure you're on the Advanced tab.
Click the Settings button from under the Performance
On the Performance Options box, go to the Advanced tab > Performance
Click on Settings
On the Virtual Memory box, uncheck the Automatically manage paging file size for all drives
Click to select the drive on which Windows 10 is installed (by default C:)
Click to select the Custom size radio button.
In the now-enabled fields, type the minimum and maximum size of the Pagefile in megabytes (MB) according to the physical memory present in your computer.
Click Set and then click OK.
Restart your computer.
https://flightsimulator.zendesk.com/hc/en-us/articles/360015893879-How-to-troubleshoot-crashes-CTDs-during-gameplay
However, they say put the page file on the C: drive but in other places people have said put it on the "fastest" drive and/or put it on both C: and where you have MSFS installed… I would like clarification as it looks like zendesk doesn't take into account whether you have MSFS installed on another drive like an SSD.
I have 32 gb of RAM and I watched the RAM analytics last night in a multiplayer flight and sure as ■■■■ it was maxing out my memory! I increased my pagefile size I had no problems in a heavy multiplayer area with a lot of scenery.
So really, and MichaMMA maybe you can help here, where do I put the pagefile, on C: where windows is installed or do I put it on my fastest drive where I have MSFS installed, or on both drives? I have room on both so I'm not concerned about size requirements.
yep, we mentioned this already ( as also the other points you mentioned )… There are rules related to the system managed setting which depends on RAM size, free space on disc, etc. . Normaly you should not have an issue with this windows setting , but we see sometimes it's necessary to change it. So you can simple set it so e.g. 32GIG max ( you don't need 96GIG ). You can also choose drive C: for this, or if you want safe your main-drive a bit, you can set on C: eg. 1024-8000 and on your Game-SSD then 4096-32000.
Why you read sometime that SSD is not a good choice: because limited lifetime of a SSD. And because MSFS cause a lot of pagefile usage, it may be affect the lifetime of the SSD ( may be ).
PS.: you can use the '@' char in front of user name, then the user got a message
And what is your PROOF? Without knowing this thread I did the following:
Create a fixed sized 16 GByte pagefile.sys on my second SSD drive D:, that is in my case MSFS 2020 on C: .
Please bother other people.
Well, with "real" hard disks it makes sense to have the game on one hard disk and the page file on another hard disk. This speeds up "head positioning time", see Positioning-time Meaning | Best 1 Definitions of Positioning-time
If you have two SSDs like me, you can do the same. A SSD has no moving parts, but bandwidth is limited between SSD and memory. The positive effect can be very little, maybe you can't measure much.