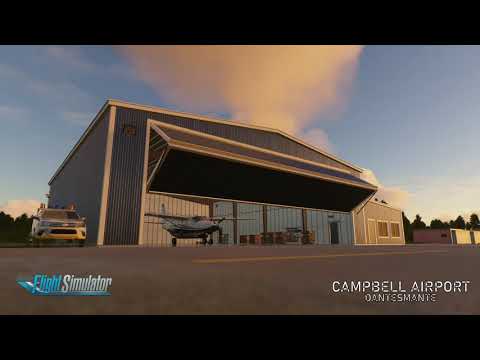 Campbell Airport (C81)
Grayslake, Illinois, USA
My first airport for MSFS. Small little non towered airport 40 miles north of Chicago. Good departure point for VFR flying along Lake Michigan. Nearby airports are O'hare Airport, Chicago Executive Airport, Waukegan National Airport.
Custom made hangars true to life.
Custom open hangar start.
Additional ramp starts located throughout the field.
Custom night lighting
Custom ground textures
Corrected trees in glideslope
Custom terrain elevations near airport.
I will try to update as needed.
Version 1.0 - Initial Release - 09/14/2020
Version 1.1 - New Hangar - 09/17/2020
Version 1.1.1 - Fixed phantom beacon, added grass runway starts - 09/20/2020
Version 1.2.0 - Major overhaul - 12/24/2020
---
UPDATE 1.2.0 - DECEMBER 24, 2020
Release Notes 1.2.0 - "Big update ladies and gents"
Fixed many ramp starts. Now, only the correct ones will show in game. Select Gate 1, to start from Open Hangar.
Corrected night lighting. Only runway 9-27 is lit. Fixed lighting to match real life.
Fixed random fuel stops blocking the taxiways and ramp starts.
Overhauled taxiways to match real life. Corrected hold shorts, and removed taxi way signs which do not exist.
Ground textures have been completely overhauled and created to match real life wear and tear. See for yourself.
Removed random airport vehicles such as buses when starting.
Tips:
The Open Hangar is big enough to fit a C208
The real life taxiways are non standard in spacing and clearances, so becareful taxing your large plane.
Try to park and push your plane back into the hangar.
Nearby Fields:
KUGN - Waukegan National Airport (11 nm NE)
3CK - Lake in the Hills Airport (13 nm SW)
10C - Galt Field Airport (14 nm W)
KPWK - Chicago Executive Airport (15 nm SE)
KENW - Kenosha Regional Airport (18 nm N)
KCGX - Meigs Field (Consider downloading the Guillermo Zulueta Meigs Field) (40 nm SEN)
Installation : Unzip and place "campbell" folder into your community folder.
Download Link
Installation: Unzip and place "campbell" folder into your community folder.
---
UPDATE v1.1
Added handmade custom open hangar. You can start from this hangar, by selecting "Gate 1" See screenshot. Hangar is large enough to fit a Cessna 208. (There is an issue with there being many default ramp starts, I'm trying to get rid of them and keep the custom ones)