This is seriously extreamly frustrating. Just going directly to desktop after buzz sound without anything said.
many reason possible… sound-drivers… anti-vir… rolling-cache… mods… login-issues… corrupt cloud-files, system issue… you must be bit more specific what,when,… happens.
Eg. Where is the state of the blue-line ? have you a different error number as e.g. here Game randomly crashes mid flight - #25 by ArcanePython931 reported ? more infos which can help ? what you tried… when it starts… etc.
And in case you realy meant you can no longer start MSFS, then there are more specific topics about. This one is for "mid flight".
There is a big topic on this.
Make sure you also vote here:
Exact same problem on this bush trip as well for me. Crashes right after the second last waypoint changes to the last one on the first leg (POI4 to LOWL). Three times in a row, tried normal and safe mode.
I get exactly the same, came to this thread looking for an answer to my problem.
It happens everytime exactly in this position: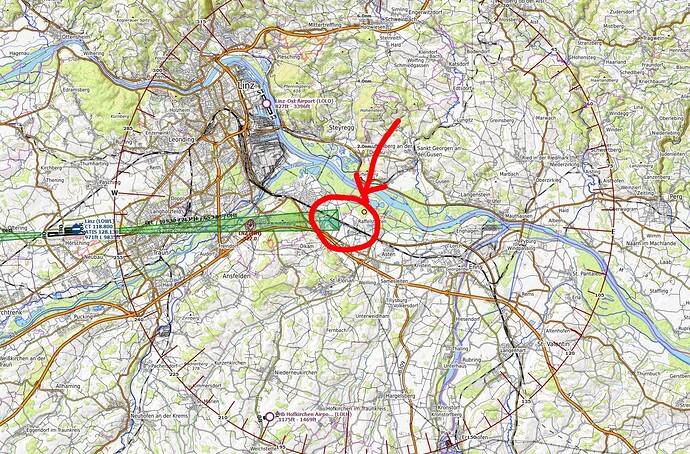 It happened four times on me, both in normal and safe mode.
I normally have no CTDs at all.
can please open the windows event viewer and check whether the error message contains "grammar…" ?
If so, then have a look at here:
No, my errors were in the vcruntime140.dll module.
But I really know nothing about this stuff. I'm enclosing the screenshots for the 4 error instances I've had if it helps.
Sorry my OS is in italian

.
then may be a mod / add-on which cause that…
I will retry LOWL and the location in your picture too
EDIT: no issues here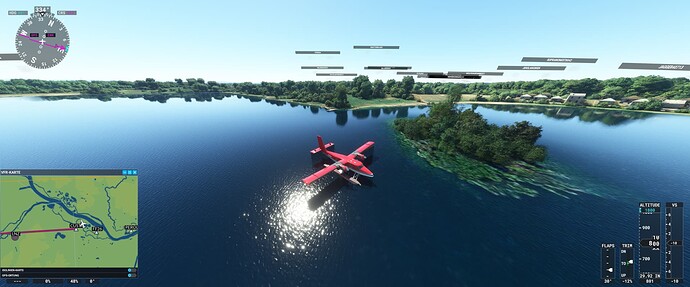 I just bought the Bilund (Denmark) airport and tried 4 ILS approaches on different runways that all ended in a CTD after a short period of stutter which started around touch down. I have CTDs from every now and then but not to this extent. I'm on Xbox.
Sadly it's not a third party addon issue. It also happens with an empty community folder.
I thought it could be connected to the specifics of the Bush Trip or to the Garmin Nxi, so I went back in free flight with the default Cessna, and got just the same CTD in the same location. Both with the G1000 Cessna and with the steam gauges one.
Look at the two tracks:
The CTDs happened at exactly the same spot. I have no CTDs at all in other locations.
Could it be connected to the autopilot maybe? All my flights were conducted with the AP on in APR mode to be sure to get to the same exact spot at 2500ft. Will try hand flying it.
BTW it also happens without Littlenavmap and I'm on PC.
ah… sorry… I also re-read your post and you already mentioned the "safe mode".
this can mean that the "grammar" issue can also cause these "sympthom" or there is another kind of issue. But what we know about the vcruntime is then often system related, but this would not match which the report "always same spot".
AP… hmmm… possible… Did you created a flightplan ? I flew the route "per hand". The area was not bad, so I think I check it again… this time with the Cessna.
To be sure you can additional do the usually stuff like windows checks ( sfc /scannow , dism … ).
Also remove the rolling cache file.
I had no flightplan and I have no rolling cache at all.
But nope, it's not the AP either. I got the same hand flying the plane… in exactly the same spot

.
Oh well, off to flying somewhere else then.
two additional rounds… no issue…
Had you may be such tools like google-maps-addon installed ?.. its a guess, but if yes, it changes the hosts file.
No, everything vanilla.
And I've just completed a 1hr long flight elsewhere with no issues at all and all my community addons back in. These things drive me crazy

.
I take comfort in not being alone with CTDs at exactly that same spot, but it's cold comfort
.
Thanks for checking it out.
that it happens each time as same spot is normaly a good condition to analyse an issue… But I can't reproduce it, but may be other users in forum can.
Another idea is may be remove shader cache (windows cleanup) and sometime seems helpfull to remove in AppData the scenerycache/index. But not sure whether it will help…
As of right now I'm not able to play msfs anymore. I tried lots and lots of things including doing a fresh install of msfs (not intended, coming back to that later on). Some time after I made this post my CTD's almost completely stopped but they made a comeback in the last 3 days. At first it was in about one hour intervalls but its gotten worse over time. After trying alot of other things I did a verification of the game files and not knowing that theres a bug going around that verifing your the game files over steam deletes your whole msfs, I was forced to do a fresh install. Even after that fresh install, I started it and… it still crashed, sometimes it gets to the loading screen and sometimes it just instantly quits (even in safe mode). Im out of ideas…
I uninstalled ReShade, deleted the msfs folder in steam common and installed it again, fixed an error I got with an DLL called ucrtbase.dll (installing the English (US) Language package fixed it) and I rebooted it. That fixed the crash on startup thing for me. This is completly different from the original mid flight CTD topic but I just want to point these possible solutions out incase somebody has this problem too.
the common US Lang pack error, thought in meanwhile all users know about
… you get then error-code …000409 and ucrtbase.dll. You find these hint about in official FAQ too.
Thats also the reason why we allways ask for the message from windows event viewer.
Hi all. If i'm here, it's because I had several CTD too. ;-((
For me, it's very randomly, not at all, as for some of you, at an exact point or time or action.
The easiest is surely to say that it comes from the last update, but for me I wonder if the internet connection can be the problem. It happens with or without my addons ( they are mostly all my own add-ons for beaufort SC), while still loading, or in flight.
Yesterday, I had the crash, 3 times in a raw.
First, in flight after maybe an hour.
Second after restarting the game, just before arriving at the finale windows " ready to flight", and the 3rd one after being like 10 secondes in the game. I gave up, and went to bed. Today, it was after 10min in flight.
Is it the server, as that game is so good that we are so many connected? Is it the connection? Mine is very bad, in the south east USA. Every neighbors is complaining, but as every humans, we are pretty good at that. Lol. Or is that the game itself? MSFS is still in development, and I'm glad they already let us use ( test) it, because it's already very good.
We all know that a computer works the best the first day, and after every update, install, un-install, it just go slower, and start to crash. This is computer.
Was flying from HNL to SFO and during approach (4.5 hours into the flight!!!) I get a CTD… this is the log… any suggestions?
Log Name: Application
Source: Application Error
Date: 4/20/2022 3:13:41 PM
Event ID: 1000
Task Category: (100)
Level: Error
Keywords: Classic
User: N/A
Computer: DESKTOP-I34585V
Description:
Faulting application name: FlightSimulator.exe, version: 1.24.5.0, time stamp: 0x00000000
Faulting module name: ucrtbase.dll, version: 10.0.22000.1, time stamp: 0x00e78ce9
Exception code: 0xc0000005
Fault offset: 0x000000000002a29a
Faulting process id: 0xbec
Faulting application start time: 0x01d854de8678c811
Faulting application path: C:\Program Files (x86)\Steam\steamapps\common\MicrosoftFlightSimulator\FlightSimulator.exe
Faulting module path: C:\WINDOWS\System32\ucrtbase.dll
Report Id: 1161593b-2664-4022-a635-9e0177b48cc3
Faulting package full name:
Faulting package-relative application ID:
Event Xml:



1000
0
2
100
0
0x80000000000000

37612


Application
DESKTOP-I34585V



FlightSimulator.exe
1.24.5.0
00000000
ucrtbase.dll
10.0.22000.1
00e78ce9
c0000005
000000000002a29a
bec
01d854de8678c811
C:\Program Files (x86)\Steam\steamapps\common\MicrosoftFlightSimulator\FlightSimulator.exe
C:\WINDOWS\System32\ucrtbase.dll
1161593b-2664-4022-a635-9e0177b48cc3






Log Name: Application
Source: Windows Error Reporting
Date: 4/20/2022 3:13:42 PM
Event ID: 1001
Task Category: None
Level: Information
Keywords: Classic
User: N/A
Computer: DESKTOP-I34585V
Description:
Fault bucket 2068442742551075613, type 4
Event Name: APPCRASH
Response: Not available
Cab Id: 0
Problem signature:
P1: FlightSimulator.exe
P2: 1.24.5.0
P3: 00000000
P4: ucrtbase.dll
P5: 10.0.22000.1
P6: 00e78ce9
P7: c0000005
P8: 000000000002a29a
P9:
P10:
Attached files:
\?\C:\ProgramData\Microsoft\Windows\WER\Temp\WER.f4caa891-5ef4-4245-8743-7abd11655afc.tmp.dmp
\?\C:\ProgramData\Microsoft\Windows\WER\Temp\WER.2fe000af-092e-4820-aa30-1f0568eae215.tmp.WERInternalMetadata.xml
\?\C:\ProgramData\Microsoft\Windows\WER\Temp\WER.258631e0-0a55-4e1a-b65c-8e106b400ebf.tmp.xml
\?\C:\ProgramData\Microsoft\Windows\WER\Temp\WER.efb4b27f-933c-4bd5-a3d1-0604a5b9b396.tmp.csv
\?\C:\ProgramData\Microsoft\Windows\WER\Temp\WER.776805c3-179f-459e-a134-54efbdb25ade.tmp.txt
These files may be available here:
\?\C:\ProgramData\Microsoft\Windows\WER\ReportArchive\AppCrash_FlightSimulator._faf42ee83fabcefb84acbd2c9bf6cb563b358_954089eb_239836af-1974-4b90-936c-5c4c0ac857bd
Analysis symbol:
Rechecking for solution: 0
Report Id: 1161593b-2664-4022-a635-9e0177b48cc3
Report Status: 268435456
Hashed bucket: d93ce0e272cecedd4cb495b71bfddb1d
Cab Guid: 0
Event Xml:



1001
0
4
0
0
0x80000000000000

37613


Application
DESKTOP-I34585V



2068442742551075613
4
APPCRASH
Not available
0
FlightSimulator.exe
1.24.5.0
00000000
ucrtbase.dll
10.0.22000.1
00e78ce9
c0000005
000000000002a29a





\?\C:\ProgramData\Microsoft\Windows\WER\Temp\WER.f4caa891-5ef4-4245-8743-7abd11655afc.tmp.dmp
\?\C:\ProgramData\Microsoft\Windows\WER\Temp\WER.2fe000af-092e-4820-aa30-1f0568eae215.tmp.WERInternalMetadata.xml
\?\C:\ProgramData\Microsoft\Windows\WER\Temp\WER.258631e0-0a55-4e1a-b65c-8e106b400ebf.tmp.xml
\?\C:\ProgramData\Microsoft\Windows\WER\Temp\WER.efb4b27f-933c-4bd5-a3d1-0604a5b9b396.tmp.csv
\?\C:\ProgramData\Microsoft\Windows\WER\Temp\WER.776805c3-179f-459e-a134-54efbdb25ade.tmp.txt
\?\C:\ProgramData\Microsoft\Windows\WER\ReportArchive\AppCrash_FlightSimulator._faf42ee83fabcefb84acbd2c9bf6cb563b358_954089eb_239836af-1974-4b90-936c-5c4c0ac857bd


0
1161593b-2664-4022-a635-9e0177b48cc3
268435456
d93ce0e272cecedd4cb495b71bfddb1d
0