Turned everything up Ultra, 200 percent render on my 34 ultra wide curved screen. ■■■■ those details! Mind you I was coming from a GTX 1060 3gb lol.
These screenshots don't do the pics justice.
Specs: i9-9900k with 16 gb 3200 Corsair mem Asus Prime Z390-A Motherboard no overclock.
Just under 30 fps and flyable stutter free. Sacrifice FPS for the visuals!
Alcatraz at San Francisco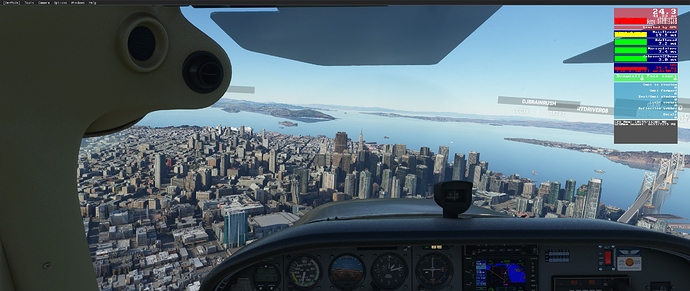 For those interested I also uploaded a video of a short flight around LA . There are some parts where it stutters (Did not in San Fran) but not much and given the amount of terrain and air traffic to be expected. If I set the render back to 100 percent it will up the fps.
Hopefully it may give those curious about how much of a difference it will make getting this card a peek.
C172 Flying around Los Angeles with Ultra Settings
Flying around San Francisco with Ultra Settings
Flying from Ontario to LAX with render 150 and terrain 150 % Fps went up by 5
Flying from Van Nuys to Torrance 100 render 150 terrain FPS went up by 10
Downtown Miami with SmoothTrack head tracker
Downtown Phoenix