I started with a LINK setup. Although it was graphically appealing the performance at time would suffer randomly. I switch to SteamVR and VD.
My flights are so smooth and graphically nice with very minimal stuttering.
My first VR capture via OBS (stutter is only on the recording).
Bahamas
Portugal
VR Stunt Flying LAX
Hilo to HNL
New York
My settings are as follows:
Steam VR
Virtual Desktop via wifi 6 1200mbs / Video bitrate 12mbs (very key to have a very fast wifi connection)
VR Graphics Quality: Medium
VR Bitrate 55 Mpbs
VR Frame Rate 90hz
Sliced Encoding Enabled


Nvida setting for the MSFS2020 program. 461.09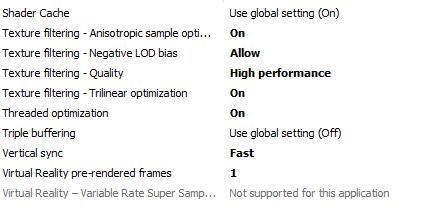 Hardware Specs:
GPU: RTX 3070 FE (not overclocked)
VR Headset: Oculus Quest 2
Mem: 16gb Corsair RGB Pro (2x8)
Proc: i9-9900k (overclock 5Ghz)
Motherboard: Asus Z390 Prime-A
Storage: Inland NVME M.2 PCIE
MSFS VR Settings.