If I want to find out what is coming soon or has already been released in a previous update, I have to look through various:
Patch notes (previous updates)
Weekly Q and A posts (most of which is advertising)
Feedback snapshots; and,
Q and A streams on Twitch
This makes looking for information about past and future updates time consuming and difficult.
Suggestion:
I would love to see a new website dedicated to Flight Simulator updates. The website should be located at an easy to remember URL, for example, https://updates.flightsimulator.com.
When new changes/updates of significance are announced/confirmed for a given patch or as "coming soon", a Community Manager could log in to the website and add items. This would likely happen after Dev Q and As, weekly blogs, or just before/after a patch is pushed to production. This would make it easier for users to find out what has/is happening and when.
This website shouldn't replace patch notes, or formal announcements during streams or proper dev blogs should they ever become a thing. Instead, it would act as a reference portal.
The downside is it would require some web dev time to build or customise an existing bespoke site, and it would require regular, albeit minimal, amounts of CM time. But I think the overall benefits would outweigh the downsides.
I don't know how useful the average consumer would find it, but for those of us who like to know what is changing (forum users, FS news websites, people who are away from the game and want to know what has changed), this would be a very useful tool.
Example from Another Game:
I have stolen a concept of how this could work from Eve Online's deprecated updates website.
Here is a screenshot from an update in 2016 (interactive version). In the image, you can see they have a basic navbar with links to historic releases, the current release (for us World Update 4), and a dropdown containing tags so users can find all content related to a specific item for example "#worldupdates".
Below this, you have the title of the view "Eve Portal" the date "Nov 8th", and share links for Facebook and Twitter, as well as a link to patch notes when appropriate (hidden because this screenshot wasn't a game update).
Under that, you have the core update items/announcements. Featured items are full width, the rest break into small columns of three. In either case, they have an image, title, external link where appropriate, tags, and a description.
Finally, you can navigate to specific dates using the navbar along the bottom, to the next or previous event using the arrows on the edge of the screen or to a specific tag by clicking on the tags dropdown, or any tag on an update item.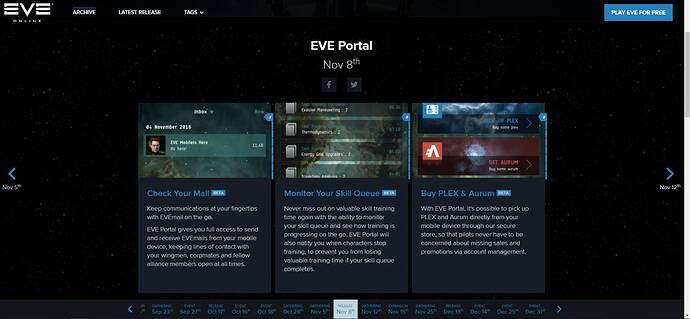 ---
I'm curious to know if others would find a portal like this useful. I hope Microsoft would consider implementing this idea, or some other method that improves the visibility of updates and key game changes.